Building and managing a quote in the Printavo mobile app

Whether you're meeting with clients in person or you're getting a call for a quote when you're away from the shop, Printavo's mobile app lets you easily and quickly build quotes on the go.
In this article, we'll teach you the basics of building and managing a quote in the Printavo app in 5 simple steps.
Note: Steps 2-5 can be done in any order by tapping the corresponding aspect of the wizard, so if you'd prefer to start with quote details, for example, that's OK!
Use the links below to navigate to specific steps in the process, or just scroll on through!
Need to download our app?
Android users: Click here to view Printavo in the Google Play Store
iOS users: Click here to view Printavo in The App Store
Note: The above links are for the US version of the Play and App Stores. Users outside of the US may have to search for "Printavo" in their device's store.
Step 1: Navigate to the "Sales" screen and tap "+ Quote"
Tap the "Sales" icon in the navigation bar at the bottom of your screen. This will take you to a list of your jobs sorted by Quotes and Invoices. (For more information about the differences between Quotes and Invoices in Printavo, check out 4.3 Defining "Quote" vs. "Invoice" from our Getting Started Guide.)
Once here, tap the blue "+ Quote" button at the bottom of the screen to be taken to the Quote Building Wizard.
Step 2: Add customer information
When you first tap the "+ Quote" button, you'll be prompted to select your customer. You may add a new customer using the "+ New Customer" option, or select an existing customer by tapping the pulldown menu: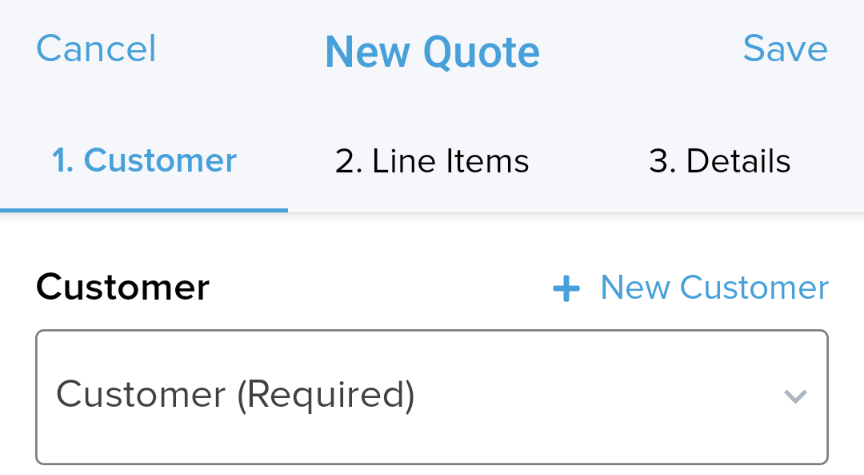 However you add or select your customer, their information will be auto-filled into the wizard:

Tap "2. Line Items" at the top of your screen to move on to the next step of the wizard.
Step 3: Add line items, line item groups, imprint information, mockups, and pricing
The concepts of line items, line item groups, and imprint information play out the same way as they do on our web app - they just look a little different on our mobile app. (Need to learn more about line items, line item groups, and imprint information? Check out 3.6 Line Items and Line Item Groups and 3.7 Adding Imprint Information, Mockups, and Pricing from our Getting Started Guide!)
To start, you are presented with an empty line item from a single line item group. To access the line item's information, simply tap the line item on your screen.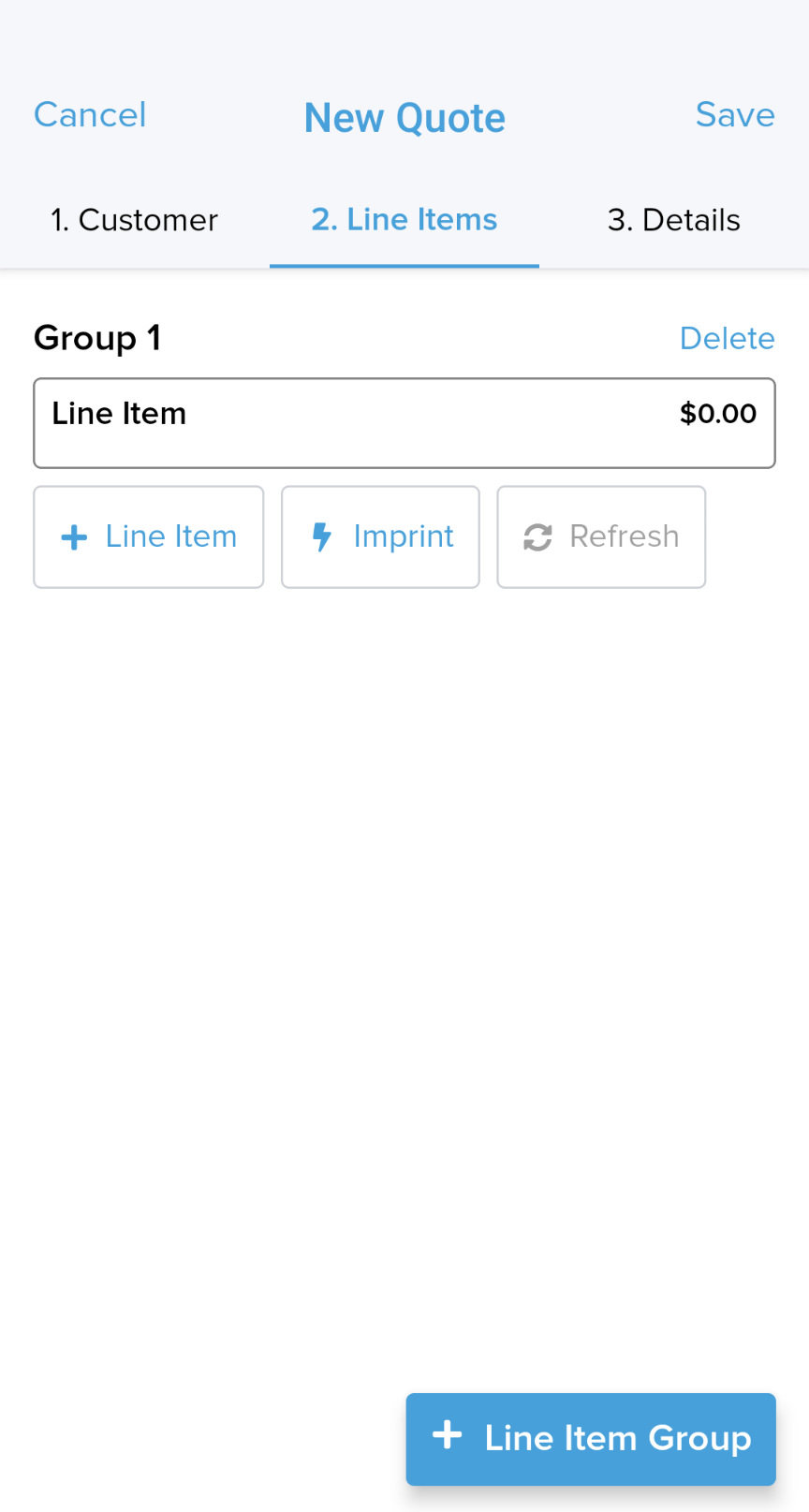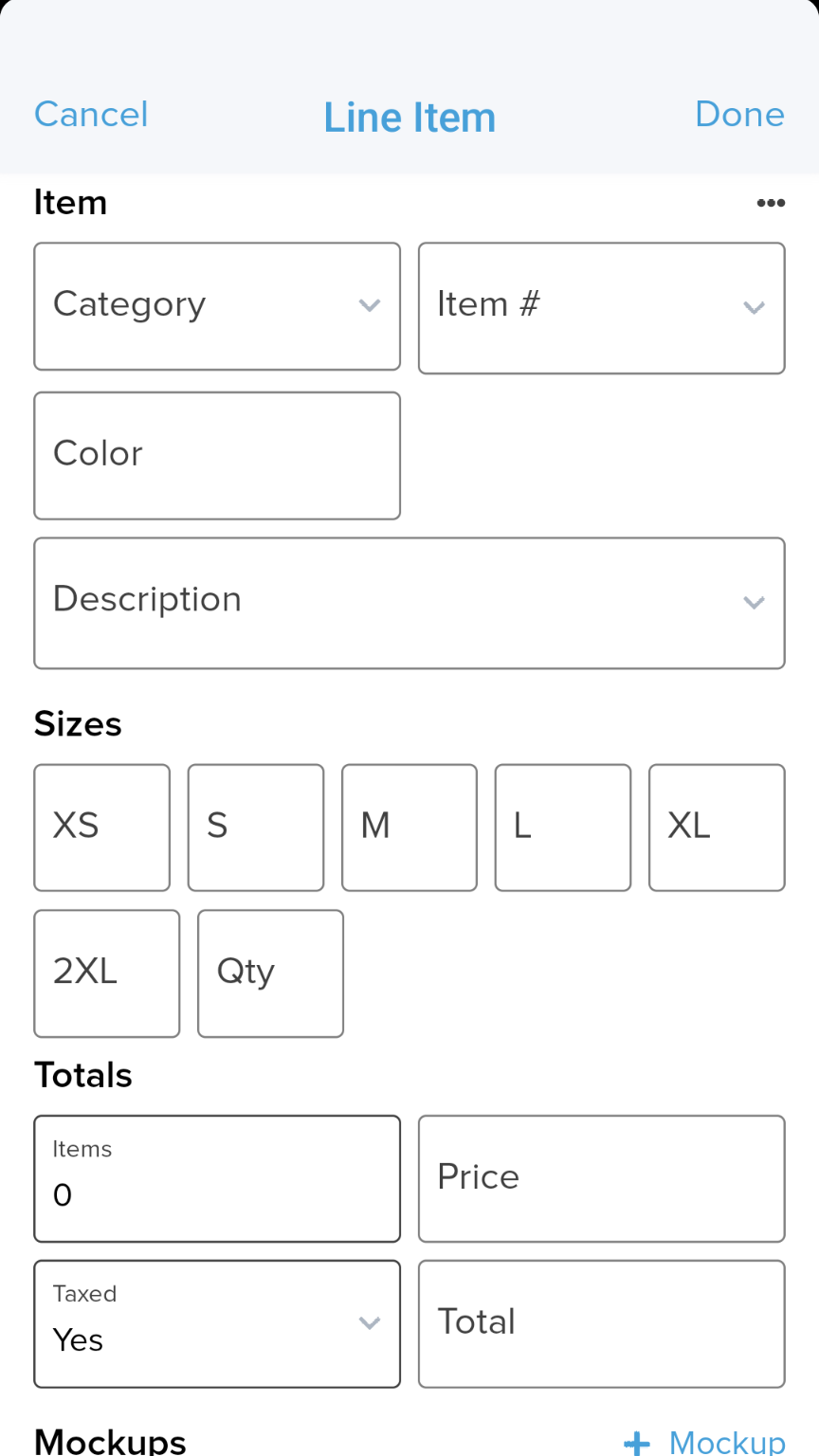 As with the web app, you'll want to create additional line items within the line item group to accommodate upcharges for 2XL+ pricing: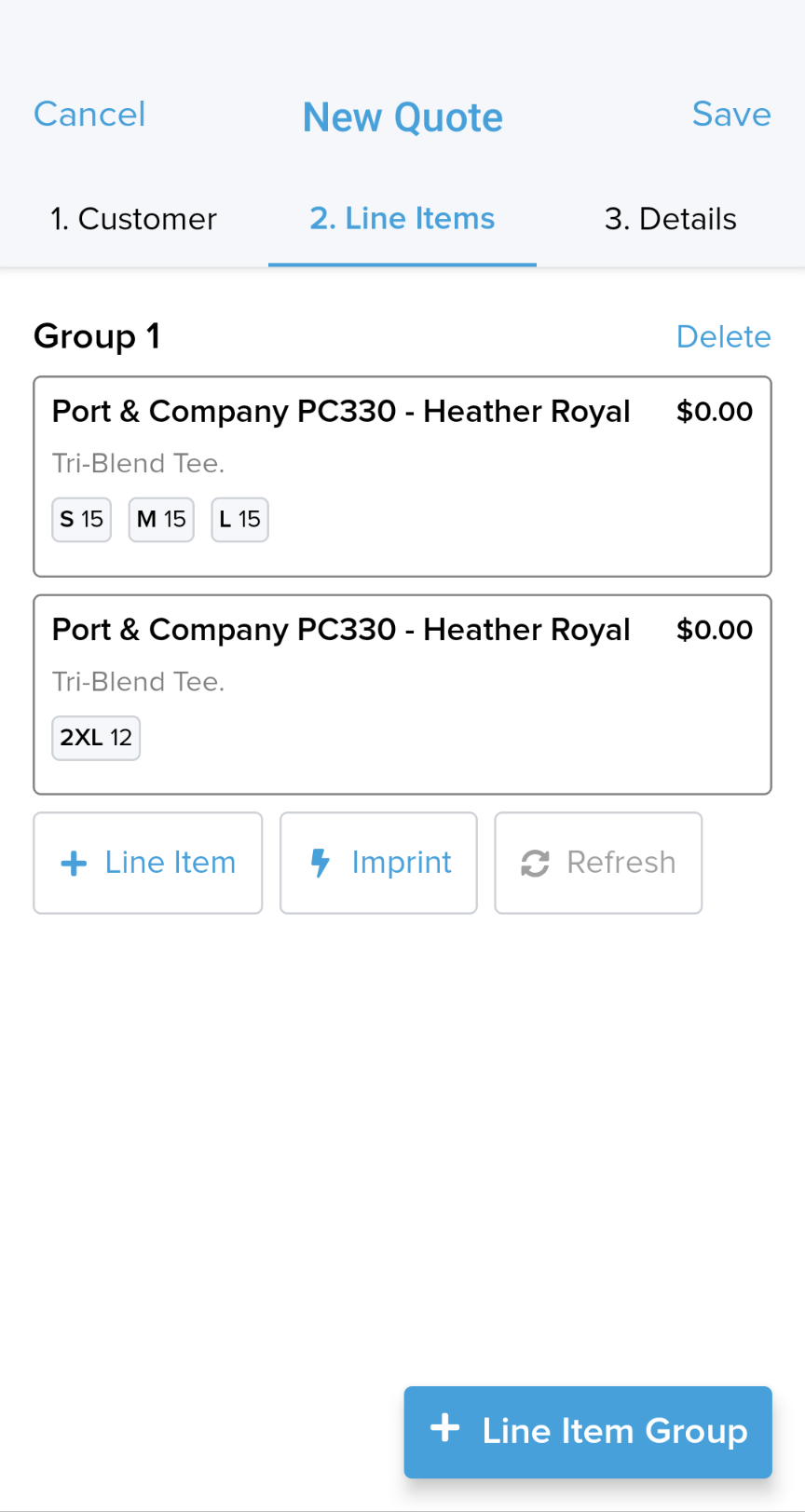 To add imprint information, tap the "Imprint" button.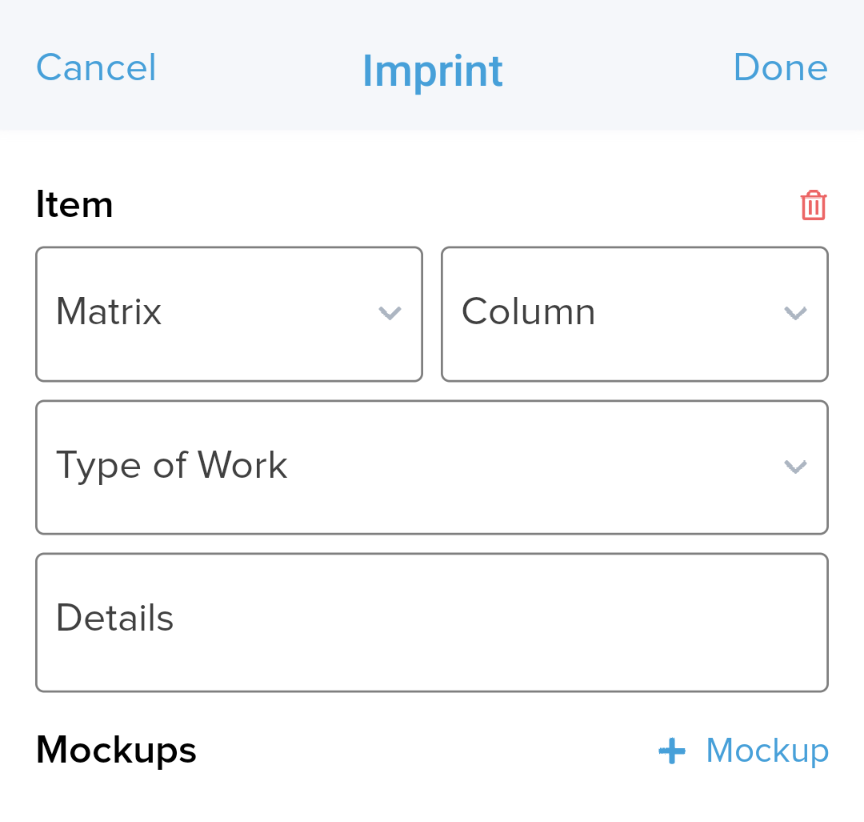 The Matrix and Column fields are what you'll use to select your pricing matrices if you're using Printavo's customizable pricing matrices. (To learn more about Printavo's pricing matrices, check out 6.4 Understanding & Importing a Printavo Pricing Matrix. For a starting point on building a pricing matrix, check out 6.3 How To: Make a Screen Printing Pricing Matrix.)


The Type of Work pertains to Printavo's Power Scheduler. (Read more about Power Scheduler here: 4.8 Power Scheduler (Premium))


The Details field is where you'll enter information relevant to the imprint (e.g., print location, mesh count, pantone(s), etc.).
The "+ Mockup" button will allow you to add mockups/tech packs that are relevant to this imprint on the line item group. Note: To add imprints to individual line items, you'll use the "+ Mockup" button located within the line item itself.
Here is an example of completed imprint information: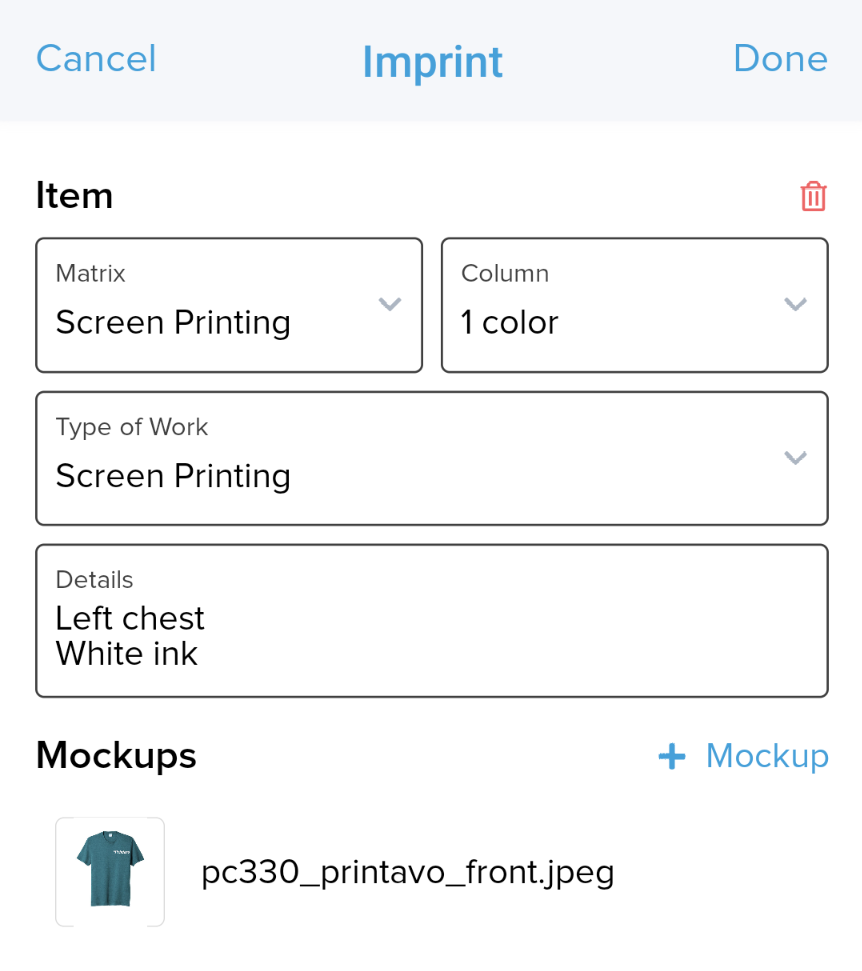 Tap "Done" when you're finished adding your imprint information. If you're using a pricing matrix, your line items will be yellow, which indicates that you need to tap "Refresh Pricing" to apply the matrix to the quantities of the line item group: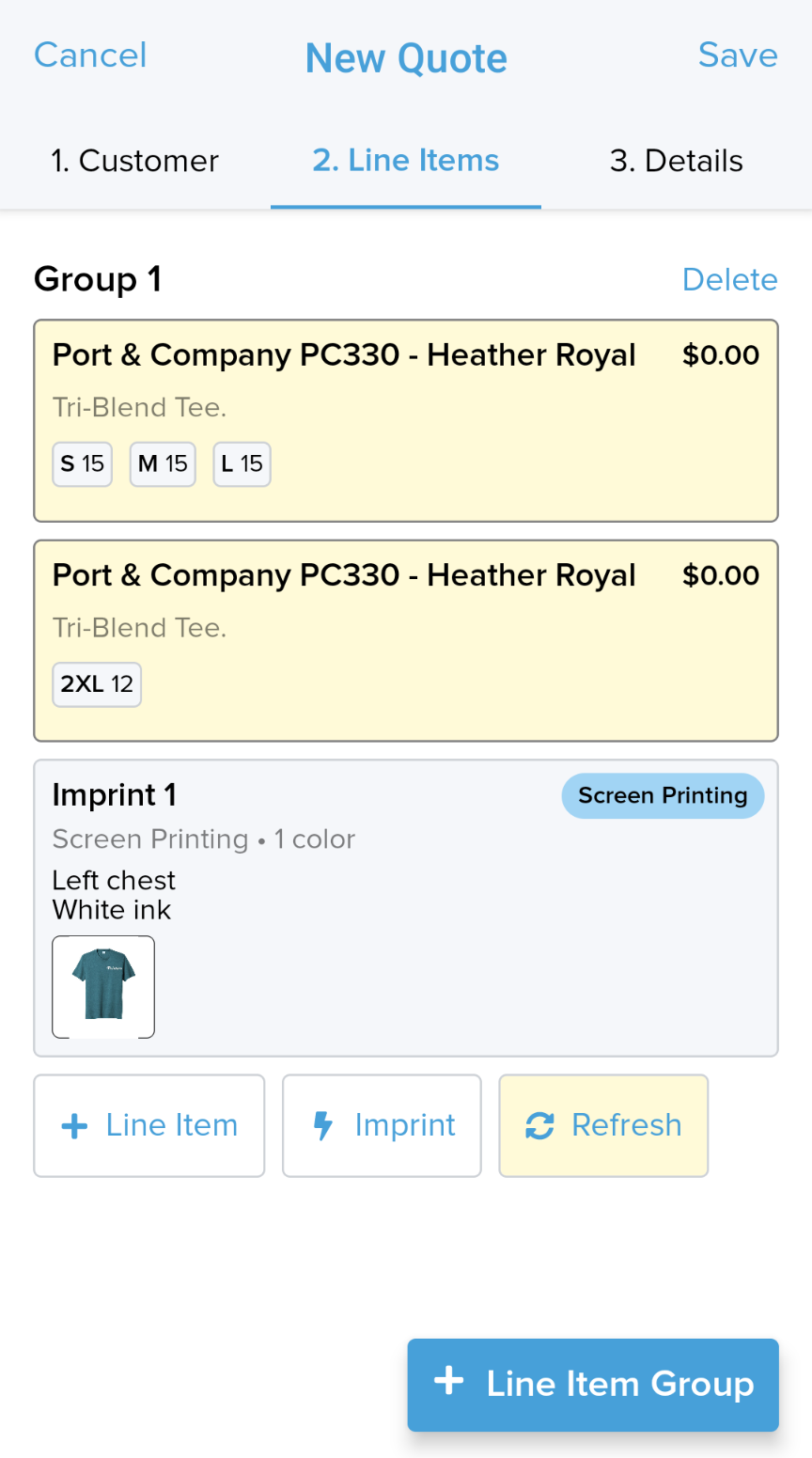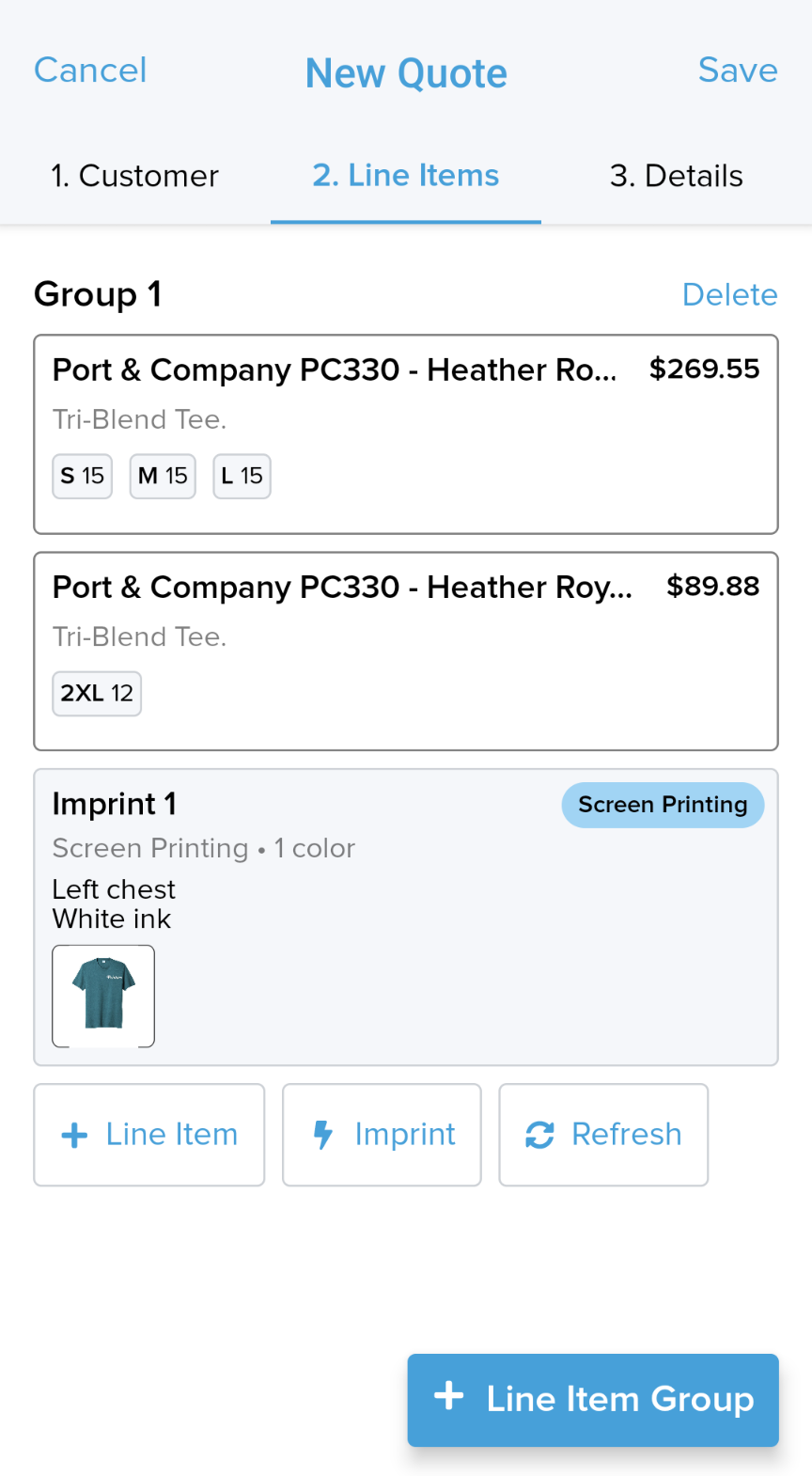 To add more line item groups to your order, tap "+ Line Item Group" and repeat the above steps for each group you add.
When you're ready to move on, ta' "3. Details" at the top of the screen.
Step 4: Add quote details
The details tab of the job is where you'll be able to add information such as:


When you're finished adding all relevant details, tap "Save" at the top of the screen. This will add the job to both your "Sales" tab and your "Calendar" tab.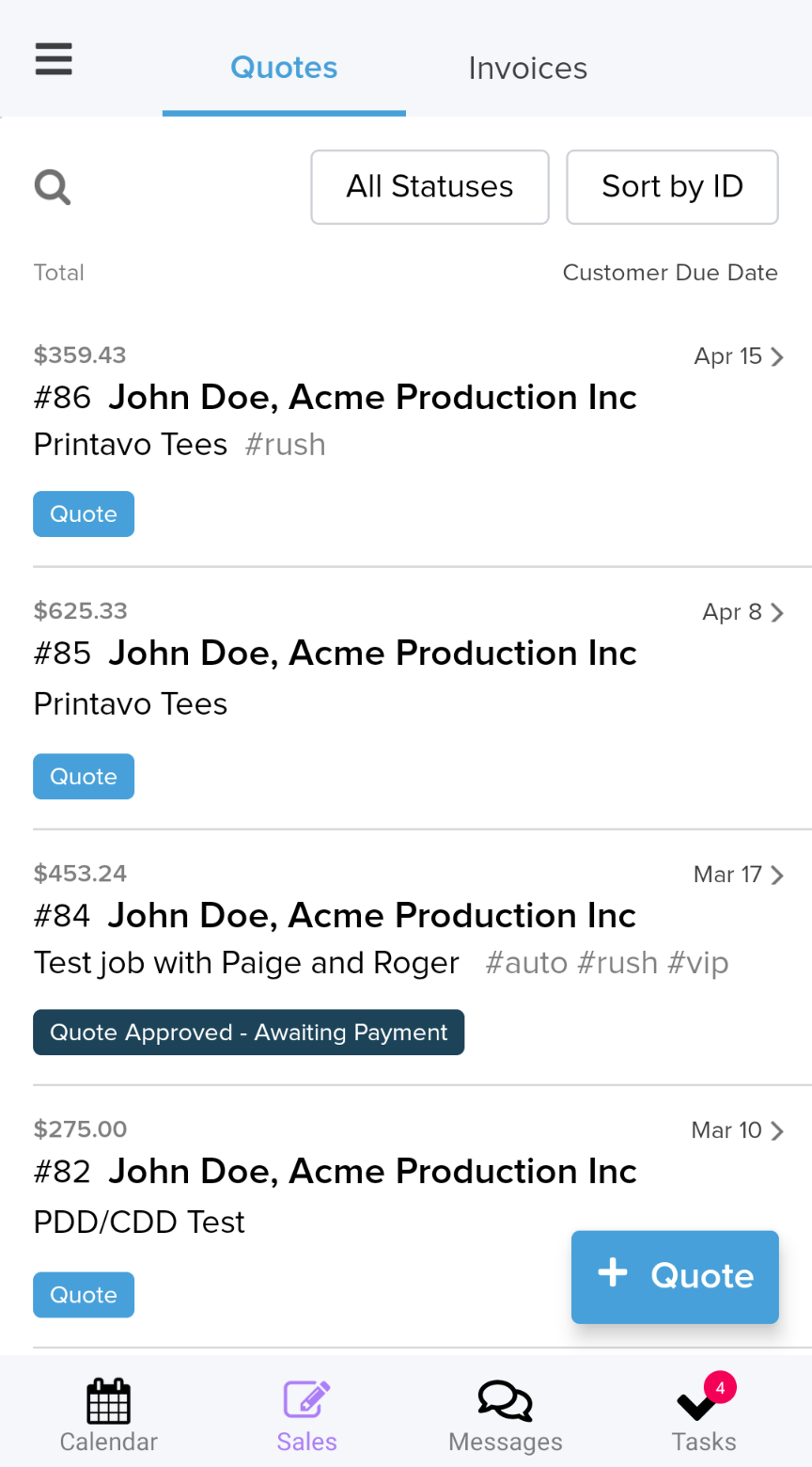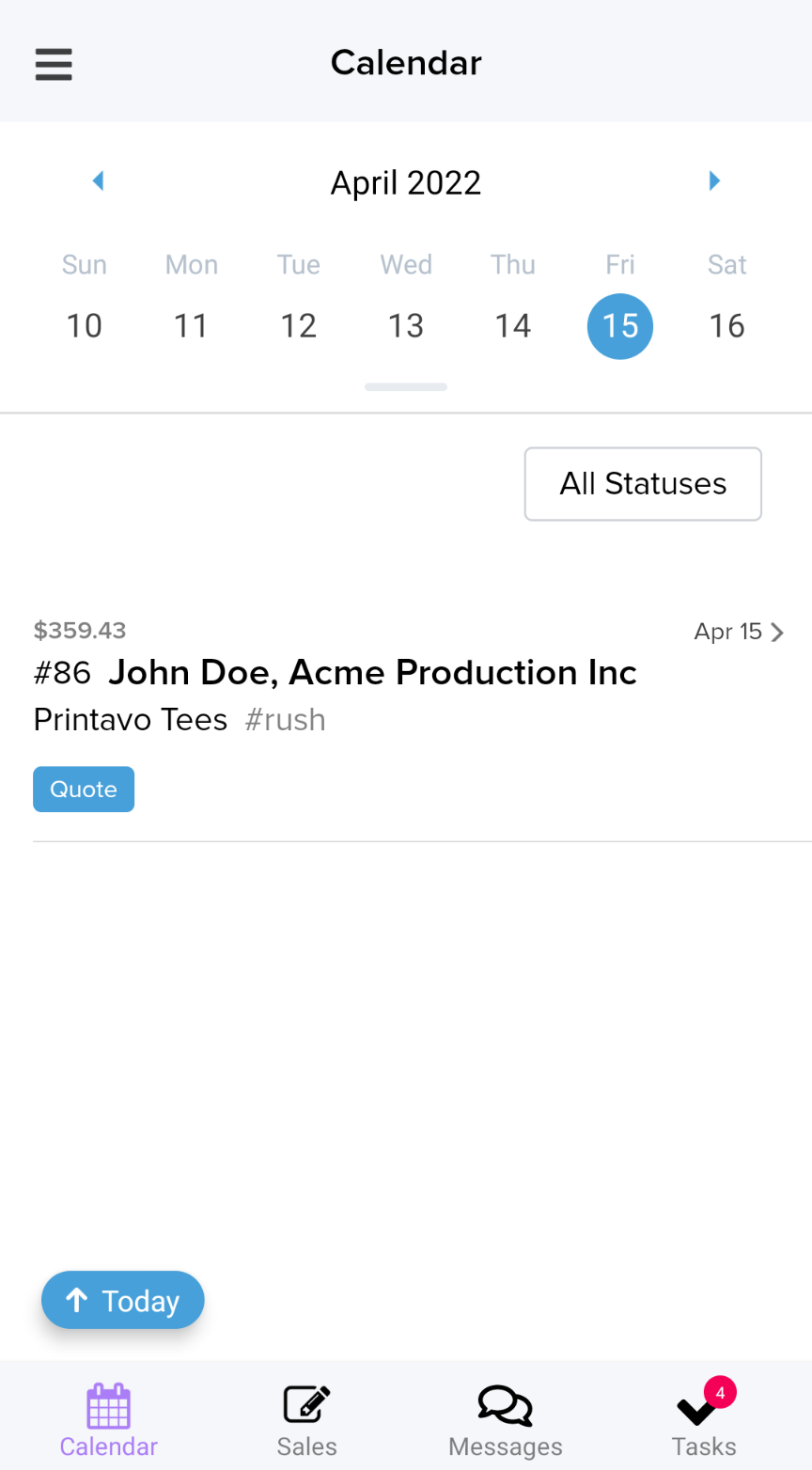 Step 5: Managing job statuses and actions
When accessing a job on the app, your screen will look something like this: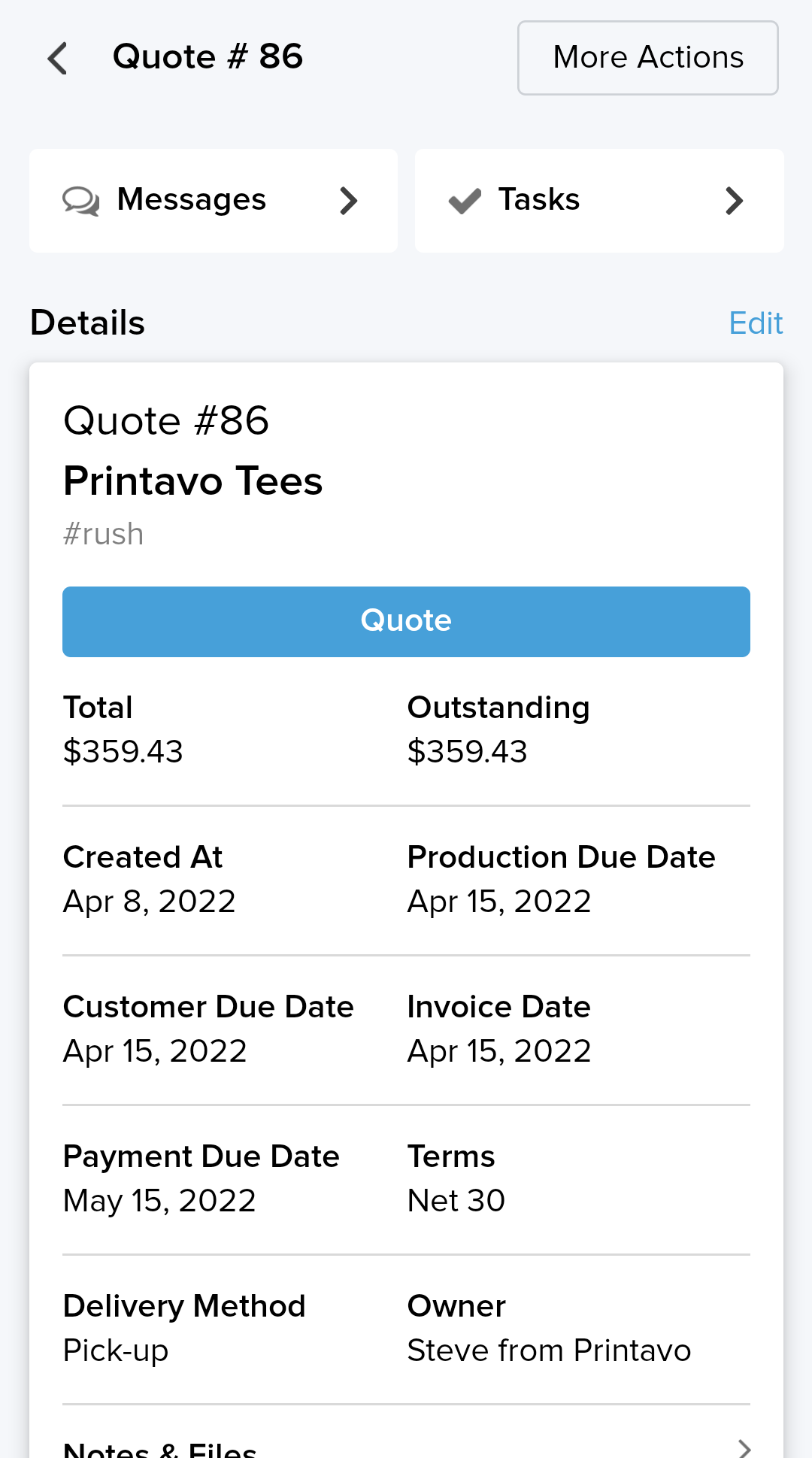 Tapping the status on the job will allow you to change its status.
For more complex actions, tap "More Actions" at the top of the screen: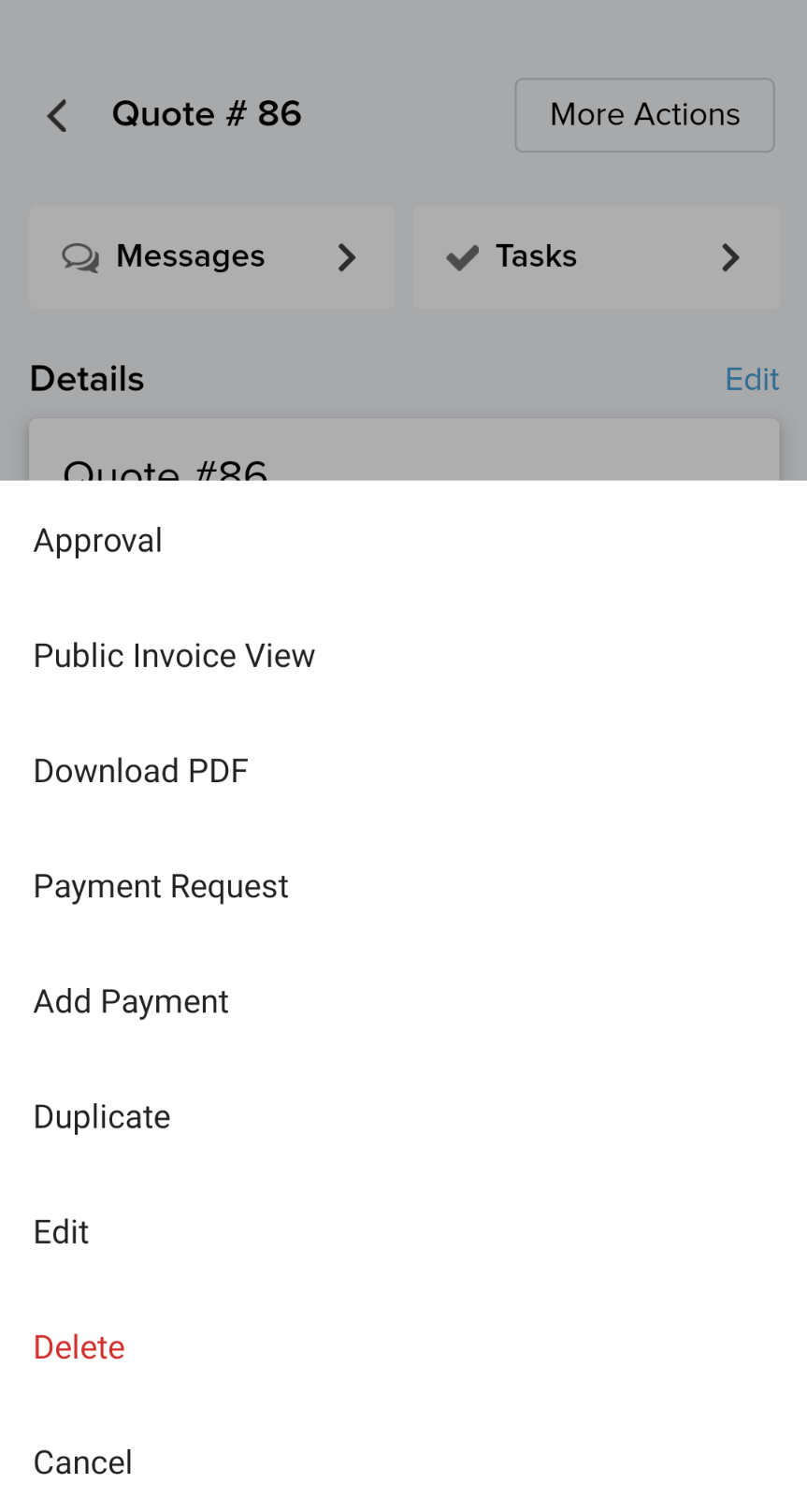 From here, you can complete many of the same tasks as you can on the web app, including:
Adding an approval to the order
Accessing the public view of the invoice
Downloading a PDF of the order
Requesting payment for the order
Manually adding payment to the order
Duplicating the order
Editing the order
Deleting the order