In this section:
What is Printavo's Training and Implementation Program?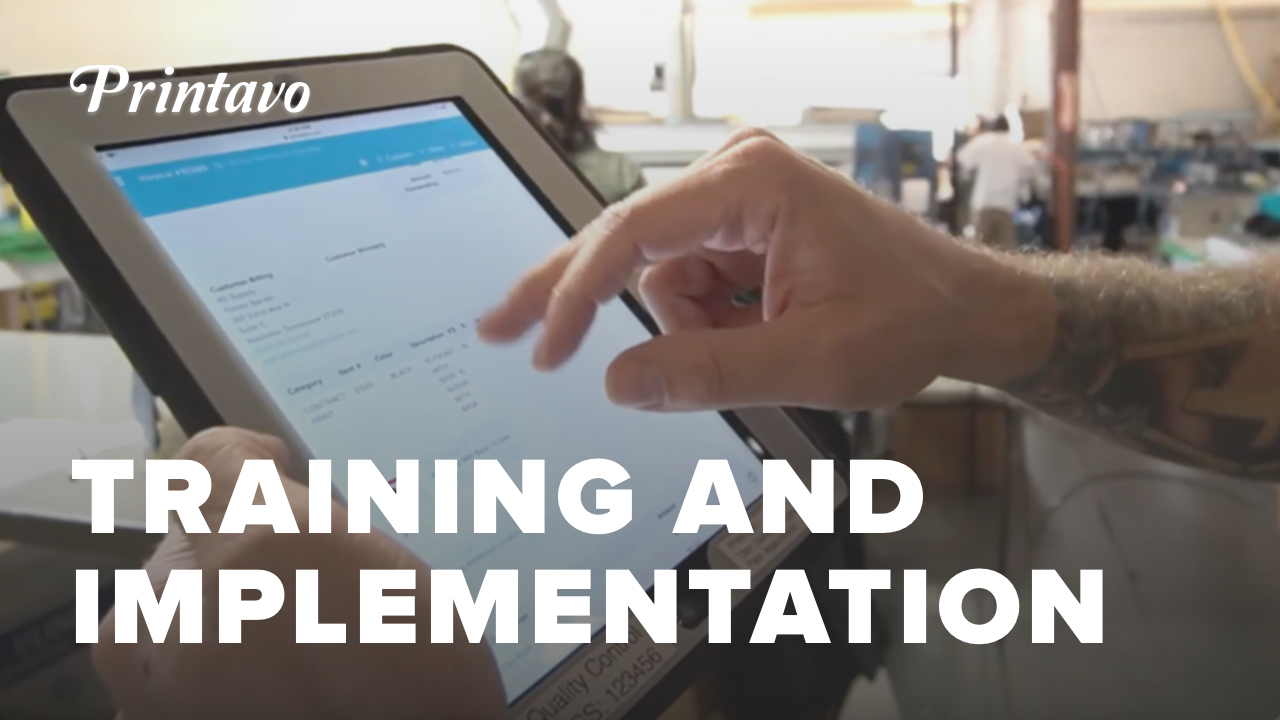 Printavo's cloud-based shop management platform is designed to help your print shop grow. Our mission is to streamline, organize, and centralize your business – making a complicated process easier to understand and improve.
Printavo's simple interface and focused features have been battle-tested by thousands of print shops across the world, with millions of orders processed and billions of dollars in payment collected. Founded by a screen printer and based in Chicago, you're joining a growing global network of the custom apparel industry's best and brightest by choosing Printavo.
Our team wants to make your transition onto Printavo simple.
Printavo's Training & Implementation program is made of four parts: workflow discovery and account setup, administrator onboarding, department onboarding sessions, and an on-site visit. The Training & Implementation program lasts 4 to 6 weeks.
Each component helps craft custom solutions for your unique workflow while training your team to get the most value out of Printavo.
Step 1: Workflow Discovery and Account Setup
In the first step of your Printavo Training and Implementation plan, we will carefully analyze your business. We will ask important questions to discover where and how Printavo can help you the most, and develop a comprehensive plan for implementing Printavo in your shop.
Much like custom printed apparel, each Training and Implementation plan is made-to-order. We'll assess your needs and develop a program to meet your goals. Generally speaking, the process is made of two major components: workflow discovery and account setup.
First, we'll document your shop's existing workflow through a simple discovery process. Together, we will walk through an entire job from intake to delivery. We will break down the steps of your process and assign a unique status in Printavo to each step. Additionally, we'll create a visual diagram of your entire process that your team can utilize.
Next, we'll dive into your Printavo account to fully set it up and ensure you're able to utilize every function and feature within Printavo. During this step, we'll set up mission-critical features within your Printavo account:
Guide you through connecting Printavo to common tools

We'll help you set up payment collection (via PayPal, Authorize.net, or Stripe)

We'll help you set up EasyPost for simple shipping

We'll show you how to connect wholesale catalogs (SanMar, TSC, AlphaBroder, S&S Activewear)

Import and/or setup your customers

Create customized job statuses

Enter templates for common e-mails and terms of service

Set up pricing matrices based on your existing pricing

Establish Printavo accounts for each department
We've found that shops benefit tremendously – getting more value out of Printavo and growing with less difficulty – when they've thoughtfully documented their workflow and fully set up their Printavo account before fully transitioning onto Printavo's platform.
Step 2: Administrator Onboarding
This three-step process welcomes your shop's administrators to Printavo. We'll show your shop's managers and administrators what Printavo can do and how to use it.
Communicate: we'll communicate how Printavo will help improve the shop's processes in the short and long term.

Instruct: we'll instruct your shop's leaders on Printavo's features, settings, and flexibility so they can use Printavo right from the start.

Demonstrate: we'll demonstrate Printavo, walking through sample orders.
During administrator onboarding, we will review your new Printavo account with your team. We'll focus on coaching your team about the settings they can control and the changes they can make. Arming your team's leaders to make improvements to your workflow (and your Printavo account) is essential for getting the most out of Printavo's platform. We will also recommend any computers, tablets, and accessories to help keep your team on the same page.
Finally, we will begin creating real orders and customers in Printavo with your team's leaders. Your team will enter jobs while we coach them through using Printavo effectively. By anchoring Printavo in the normal day-to-day tasks your team already does, we'll model strong and repeatable habits to help your team quickly master Printavo.
Step 3: Department Onboarding Sessions
We've documented your workflow, set up your account, and welcomed your team's leaders on board. Now, it's time to onboard each department in your shop. Change is hard, and getting your team to adopt a brand new system can be difficult.
To prevent your staff from feeling overwhelmed by the transition onto Printavo, we'll schedule individual 20-minute calls with each department. Your team will be able to ask questions and learn exactly what they need to succeed with Printavo. To further ensure everyone understands the transition, we'll also do a screen-sharing session with hands-on tutoring inside Printavo.
Here's what we'll cover during these sessions:
Best practices: we'll show your team how to use Printavo like a pro

Tips and tricks: we know some great tips and tricks about Printavo, and we'll share them with your team

Ideas for automation: we'll share ways to automate common tasks like follow-up emails, approvals, and more

Workflow specifics: we'll show each department where they fit into the bigger picture, and how Printavo will help them keep track of what they should do
We will also recommend any computers, tablets, and accessories to help keep your team on the same page. By showing your team how Printavo fits into what they already do, you ensure there are minimal disruptions and maximum buy-in from your team.
Step 4: On-Site Visit
Finally, we can send a Printavo team member to your shop for a boots-on-the-ground visit. This will allow us to see your shop firsthand, answering questions from your staff, and further implementing best practices for your workflow. Additionally, we'll be able to audit your Printavo account and determine whether you're getting the most value out of the platform.
During our shop visit, we will:
Walkthrough Printavo and how it relates to your shop

Answer and ask questions about how to use Printavo

Train your staff as needed

Audit and clean up your Printavo account

Check that you're fully utilizing Printavo
Printavo has helped thousands of shops across the world streamline their processes, get paid faster, grow their business, and manage their shop from anywhere in the world. We're dedicated to our mission: helping print shops grow and reach their full potential through software, support, and education.
Curious to see who uses Printavo and what their shops are like? Check out our shop tours with some of our amazing partners:
Are you ready to flourish with Printavo? We're ready too. Contact us at support@printavo.com and let's build something amazing.