Export your online store data for easy financial reporting and data analysis
Exporting data from Printavo Merch is done on a store level. From your settings, head to "Export Data".
From here, you can choose to download the: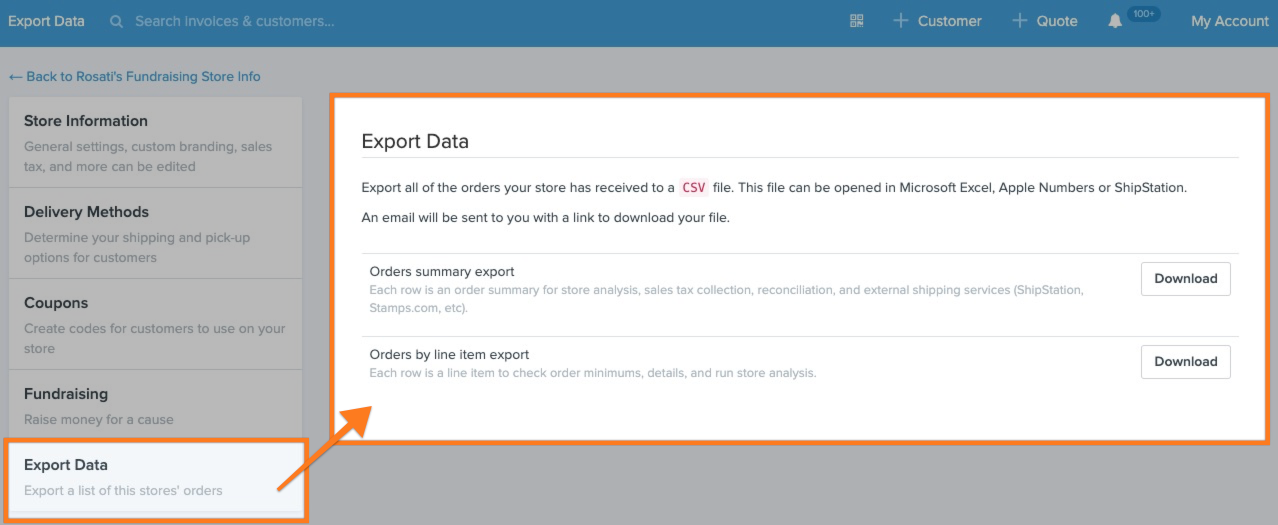 Clicking "Download" will email the relevant .CSV spreadsheet to the requester. The spreadsheet can then be downloaded from your inbox and viewed in any spreadsheet program, including Microsoft Excel, Google Sheets, and Apple Numbers.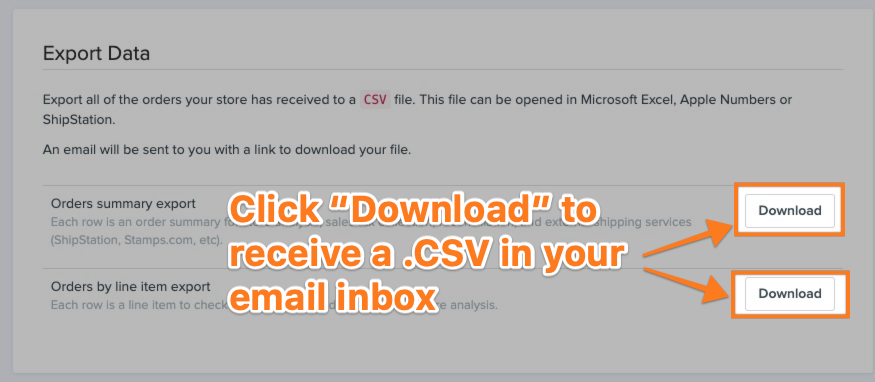 What's in the "Orders summary export"?
The following column headers will appear in the "Orders summary export":
Order #
Order Visual ID
Order Completed Date
Payment Transaction ID
Customer Name
Customer Email
Customer Phone Number
Shipping Address1
Shipping Address2
Shipping City
Shipping State
Shipping Zip
Shipping Country
Billing Address1
Billing Address2
Billing City
Billing State
Billing Zip
Billing Country
Total Quantity
Items Subtotal
Personalization Total
Coupon Code
Coupon Discount Total
Order Subtotal
Sales Tax
Customer Selected Shipping Cost
Order Total
Total Weight (oz)
Customer Selected Delivery Method
Actual Delivery Method
Actual Shipping Cost
Total Fundraised Amount
Fulfillment Status
What's in the "Orders by line item export"?
This export can be used for ShipStation import to create shipping labels as well. The following column headers will appear in the "Orders by line item export":
Order #
Order Visual ID
Order Line Item #
Order Completed Date
Payment Transaction ID
Customer Name
Customer Email
Customer Phone Number
Shipping Address1
Shipping Address2
Shipping City
Shipping State
Shipping Zip
Shipping Country
Billing Address1
Billing Address2
Billing City
Billing State
Billing Zip
Billing Country
Product Name
Product Variation Details
Personalization 1 Name
Personalization 1 Input
Personalization 1 Upcharge
Personalization 2 Name
Personalization 2 Input
Personalization 2 Upcharge
Paid Total
Total Quantity
Coupon Code
Fundraising Method
Total Fundraised Amount
Tax
Flat Rate Shipping Cost
Actual Shipping Cost
Customer Selected Shipping Cost
Fulfillment Status
Actual Delivery Method
Customer Selected Delivery Method
NEXT: 7.5 Printavo Merch: Editing Product Information

PREVIOUS: 7.4d Printavo Merch Settings: Fundraising
Click the file below to download a sample Printavo Merch store export