Creating a Printavo Merch store is both easy and fast.
In this section, we will cover how to:
Create a Printavo Merch store from a Printavo Invoice (Recommended)
Creating a Printavo Merch store from a Printavo invoice is the fastest way to build your baseline Printavo Merch store. While you literally just have to click one button to create the store, there are a few pieces of information you'll want to have set up now to save yourself time later.
1. Add your customer information as you normally would
This is a required step of the process. Best practice here is to pick the contact who will be responsible for approving the store and store terms.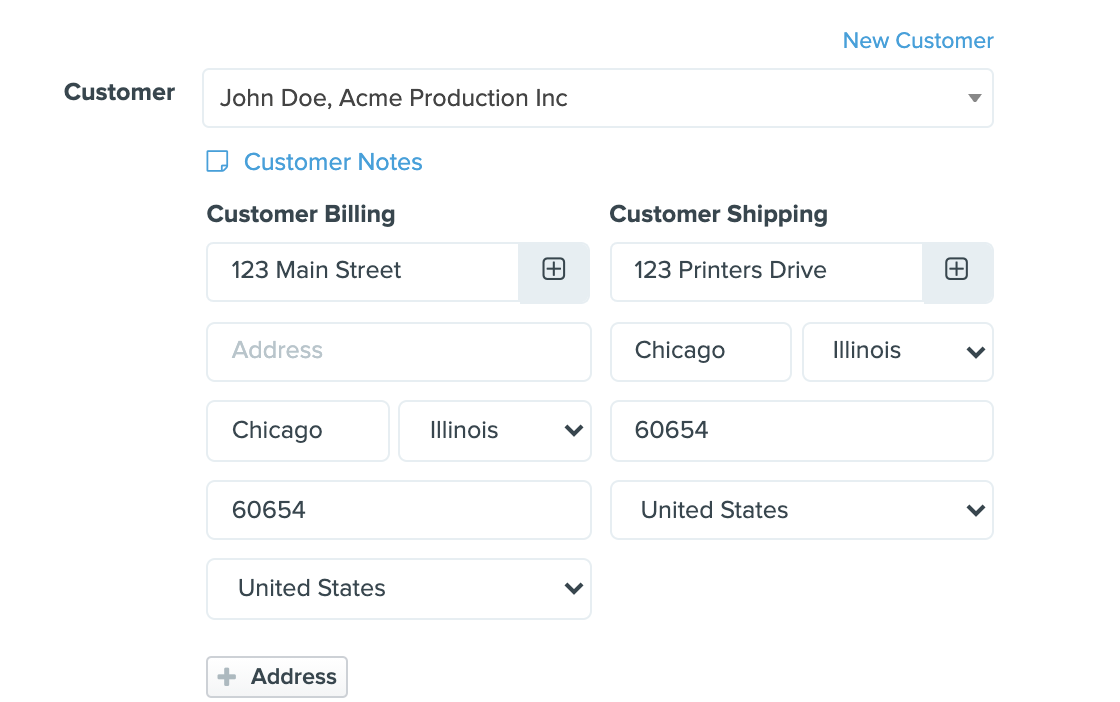 2. Name your store using the "Nickname" field
The name you set in the "Nickname" field will be the default name of your store (e.g., "Main Street Parade Merch" or "2021 Season Spiritwear!").

Note: The name of your store can be changed at any point. This is just your starting point. =)
3. Set clear terms & conditions using "Customer Notes"
This step is not technically mandatory to create the store, but it is a step you should absolutely take to set clear expectations with your organizing customer. Some example term categories include:
Contact info (Email, phone, website, online store address)
All important dates

(Opening, closing, production, in-hand dates)
Minimum order (Quantity or revenue - however you do it)
All important policies

(Returns, fulfillment, any unique caveats, etc.)
The reason you'll want to put these in the "Customer Notes" is because you can present them to the customer and have them approved prior to the store creation (just as you would with a quote or with artwork).
For some more detailed sample terms and terms templates, check out the Sample Online Store Terms & Conditions section of The Ultimate Guide to Online Stores for Print Shops and Screen Printers. You can also download some template options at the bottom of this article.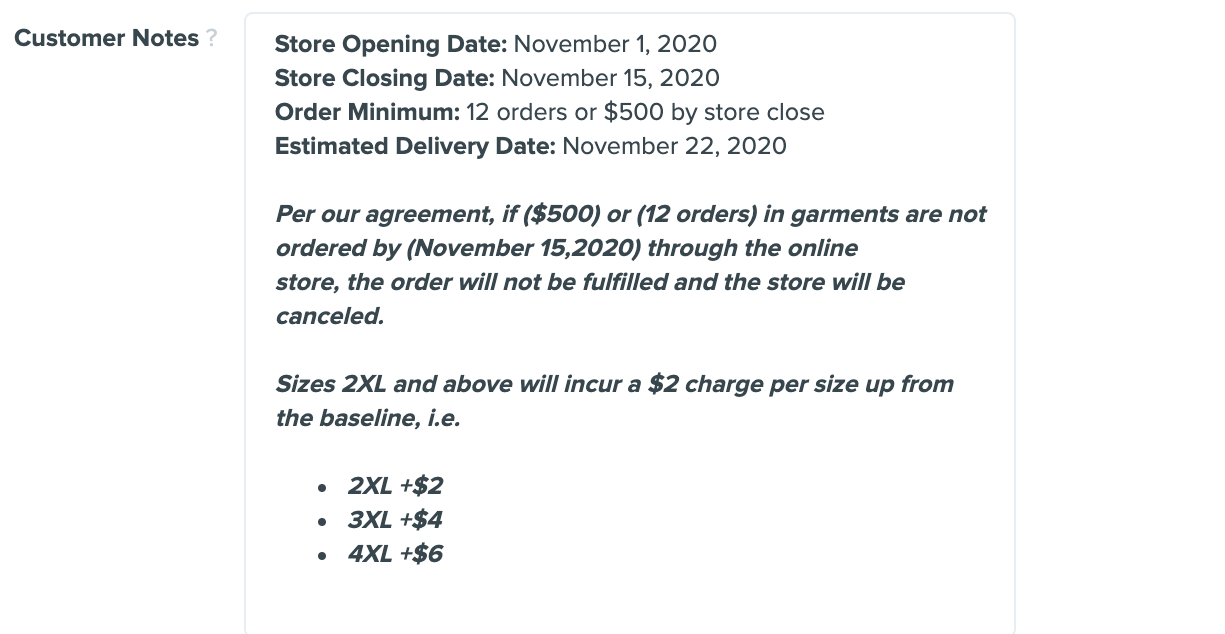 Tip: Create statuses and approval types relating to Printavo Merch approvals to help streamline and document the approval process with your customer.
4. Select your product offerings, images, and prices via Printavo's line item groups
Each line item group will represent one "product" in your Printavo Merch store. So if you want to offer 6 different products, then you'll want to create 6 different line item groups and include your size and color variants within the relevant group.
To begin creating your products, within your desired line item group, select your product as you would for a non-Merch quote.
To offer an item in a specific size, simply put the number 1 in the size column. If a product offering does not align with t-shirt sizes (e.g., water bottles, tote bags, etc.) simply type the number 1 in any of the size columns to tell Printavo to activate the product in your Printavo Merch store.
Note: Size name variants like "One Size" can be created and added to the product once your store is established.
The price you attach to the line item will be the price you offer for the product. Create separate line items within your line item group to pre-price plus-size items.
Tip: Notate plus-size upcharges in your terms and conditions to manage expectations and mitigate confusion.
Attach mockups to the individual line items of a line item group to set pictures to coordinate with your offered products. These, too, can be edited or added to later on.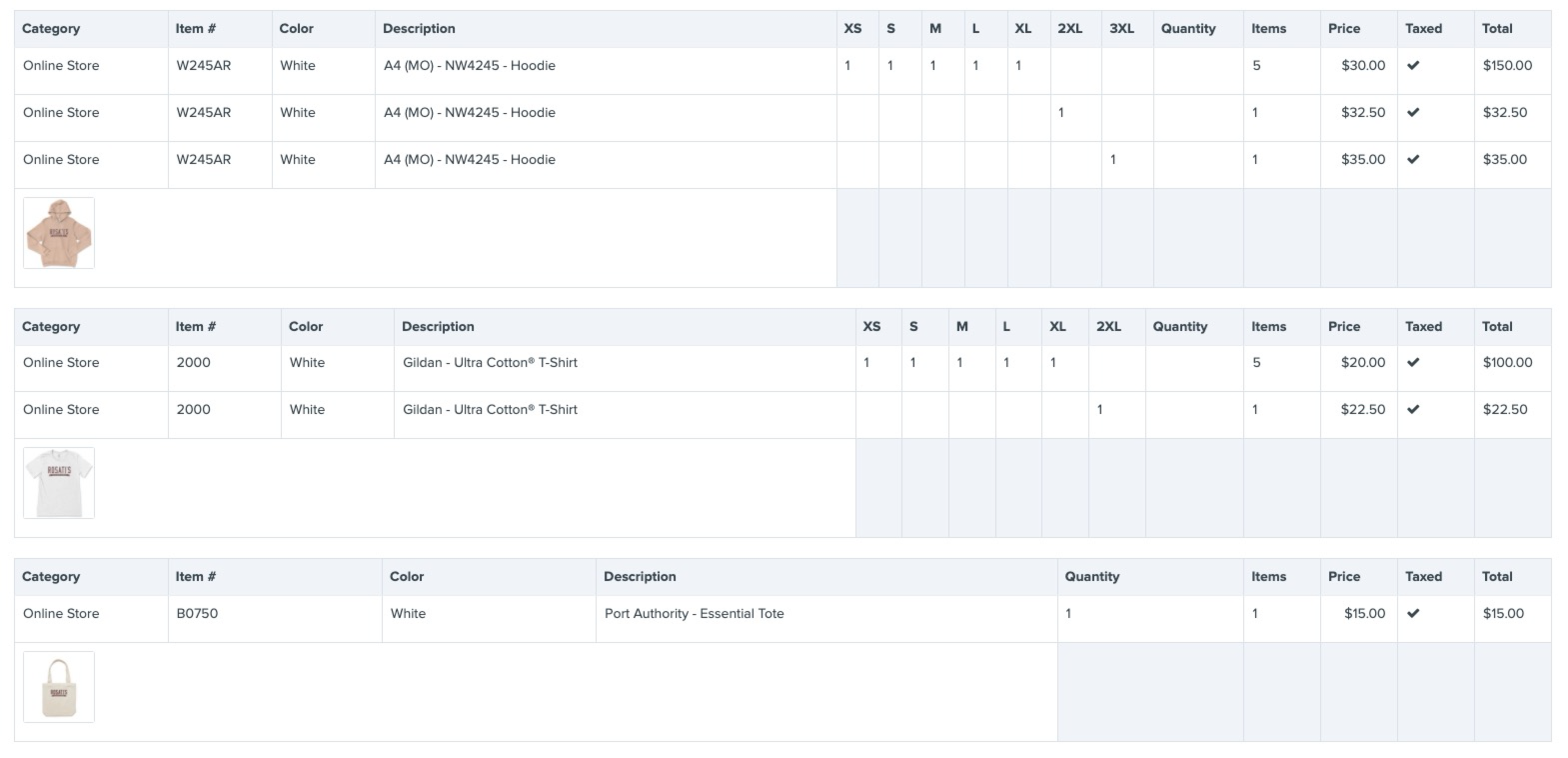 5. Save the job to make it an official Printavo quote/invoice and begin the approval process
Every shop will have its own Printavo Merch store approval requirements and processes, but we do highly recommend ensuring your customer approves of product offerings, pricing, and terms and conditions before you launch your store.
This can be accomplished with automation and/or manually sent approvals.

6. Convert the invoice into a store!
The moment we've all been waiting for - creating a Printavo Merch store from an invoice!
Once the customer has approved all that they need to approve, click "More Actions" > "Create Merch Store". At this point, you'll have your first opportunity to edit the store name. You'll also be asked to add the desired store URL (website) "slug" - or how you'd like the end of your store's unique URL to display.
When you're ready to have Printavo build your store, click "Create"!
Note: Printavo Merch URLs will display as https://yourshopname.printavo.com/merch/yourdesiredurlslug
This slug can be edited later if you'd like, but do always make sure your client has the most up-to-date URL/website or else their customers could be redirected to a dead link.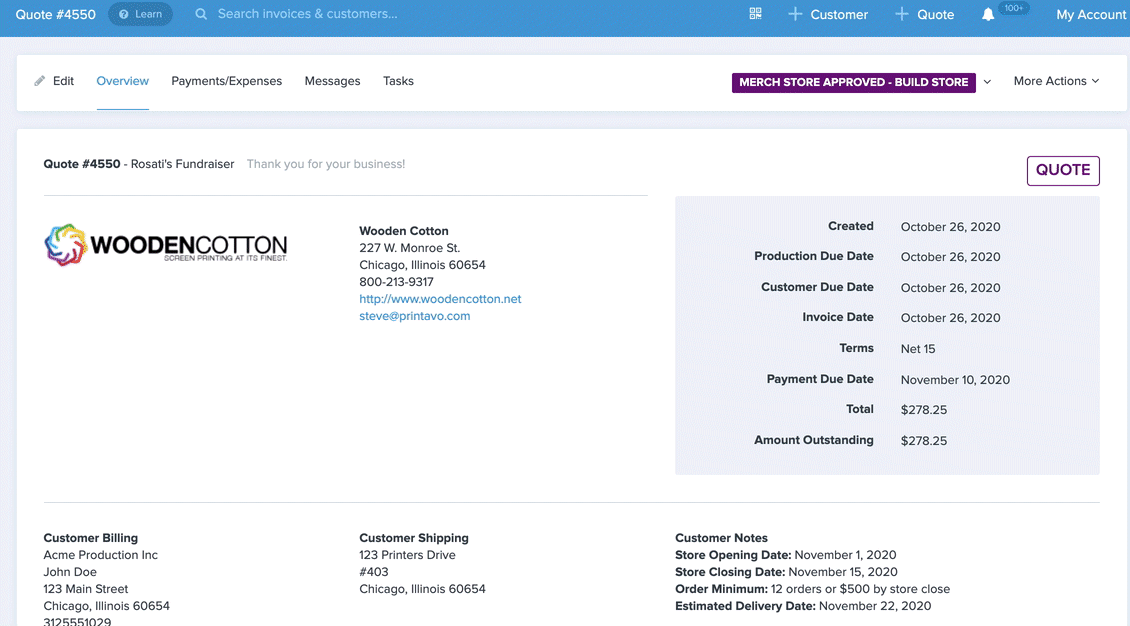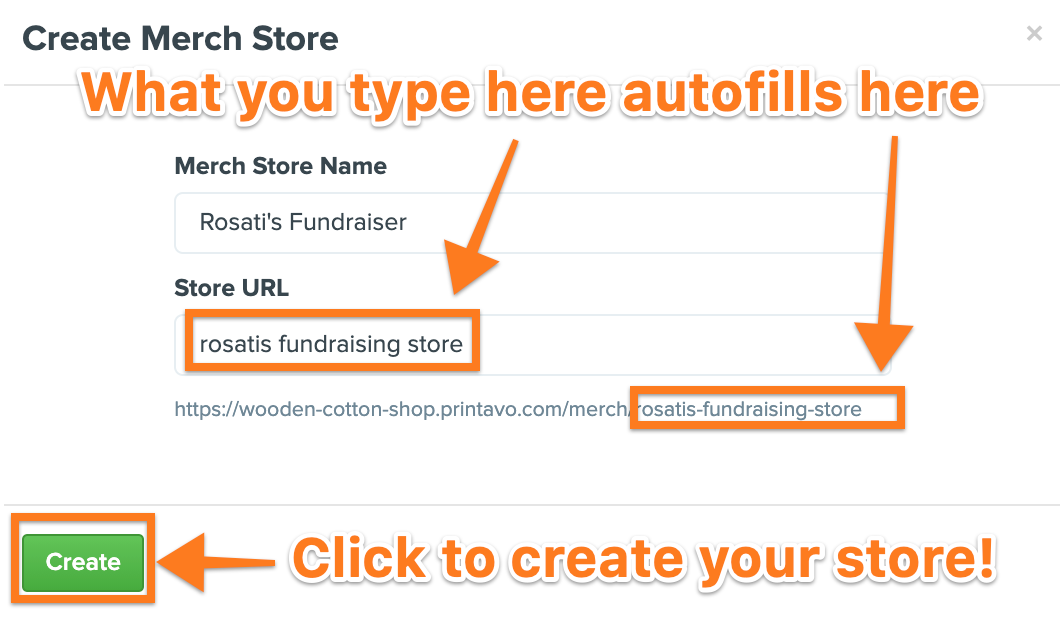 Once you click "Create" you'll be taken to the Printavo Merch Overview page and see your store being built. Most stores are built in less than a minute, but the build time is dependent on the amount of data that needs to be converted (e.g., a store with 6 products at 3 images each may take slightly longer than a store with 3 products at 1 image each).
Once the store has been built, you'll see it in your created stores list as a new store!
Note: Printavo Merch stores default to a "Closed" status to give you the opportunity to customize your store prior to launch. You may have to change the sorting of your table to "Created Date" to see your store. If you haven't seen a change from the pending status, refresh your browser. On rare occasions, a store might not exit a pending status after several minutes. If this happens please reach out to support@printavo.com and we will happily assist you. =)


7. That's it!
You've built a Printavo Merch store from an invoice! Follow the rest of the steps in Chapter 7 to learn how to customize your Printavo Merch store.
Create a Printavo Merch store from the Printavo Merch interface
Some shops prefer to build stores from scratch - manually adding all product information, descriptions, pricing, images, etc. To initiate a store build from the Printavo Merch interface, simply head to Apps > Merch > New Store
Throughout the rest of Chapter 7, we will show you how to customize your Printavo Merch store.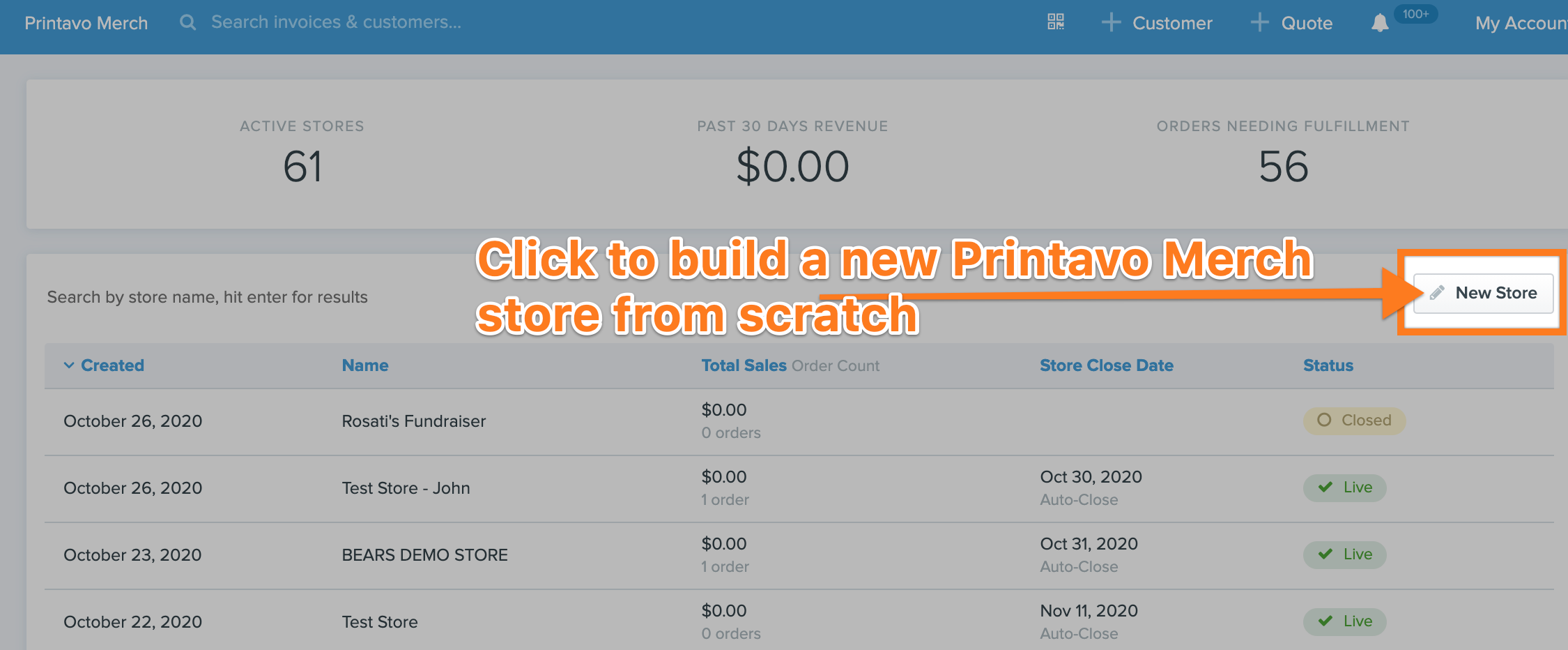 NEXT: 7.3 Printavo Merch Stores Overview Page

PREVIOUS: 7.1 What is Printavo Merch?
Click below to download Online Store Terms & Conditions templates