Printavo's calendar is your job overview hub.
In this section, we will look at how to:
1. Filter relevant jobs on your calendar
Printavo allows users to filter their calendars to show jobs that are relevant to them and their day-to-day operations. This helps users focus on the work that they need to do. For example, jobs in quoting statuses may not be relevant to your art department, so your art department can make sure they're not distracted by jobs in the quoting statuses.
Filtering jobs by status displays jobs when they're relevant to you and removes them from view when you've done your due diligence.
To filter jobs in Printavo, simply click the "Filter" button on your calendar, then check the boxes for statuses you'd like to see and uncheck statuses for statuses you do not want to see. For faster selections, use the "Select All" and "Select None" buttons at the bottom of your filter options.
Note: Filtering a job off of your calendar does not delete the job.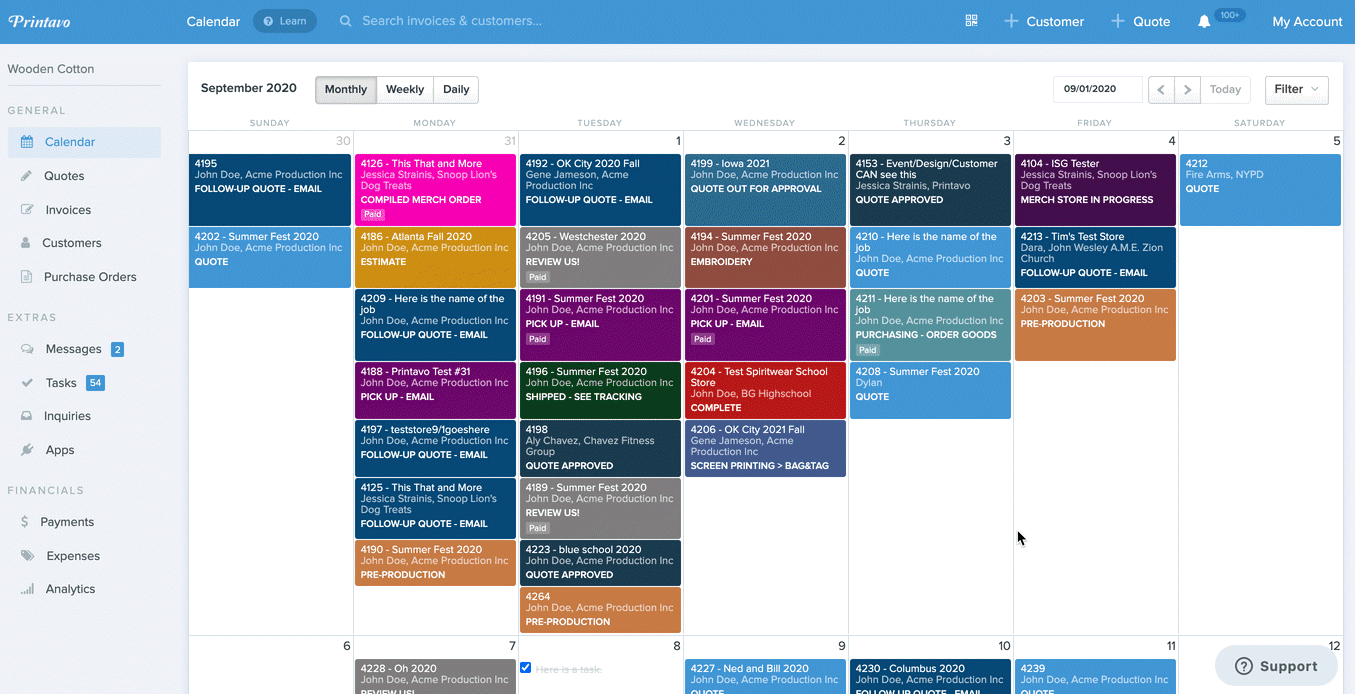 Tag search allows for custom job search based on any tags you assigned to a job when building your quote (as covered in section 3.5c Job Tags).
Note: As tag search requires the tag feature to function, it is only available for use on the Premium tier of service.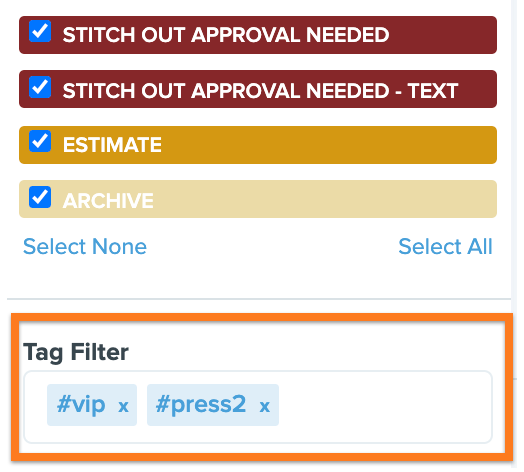 2. Explore the job preview modal
Click a job on your calendar to bring up a quick look at some of the job's important details. The preview modal will show you:
Job number
Job name
Customer name
Production due date
Customer due date
Total quantity
Total price
Any tasks on the job
An option to view the full job page
The current job status and the ability to change it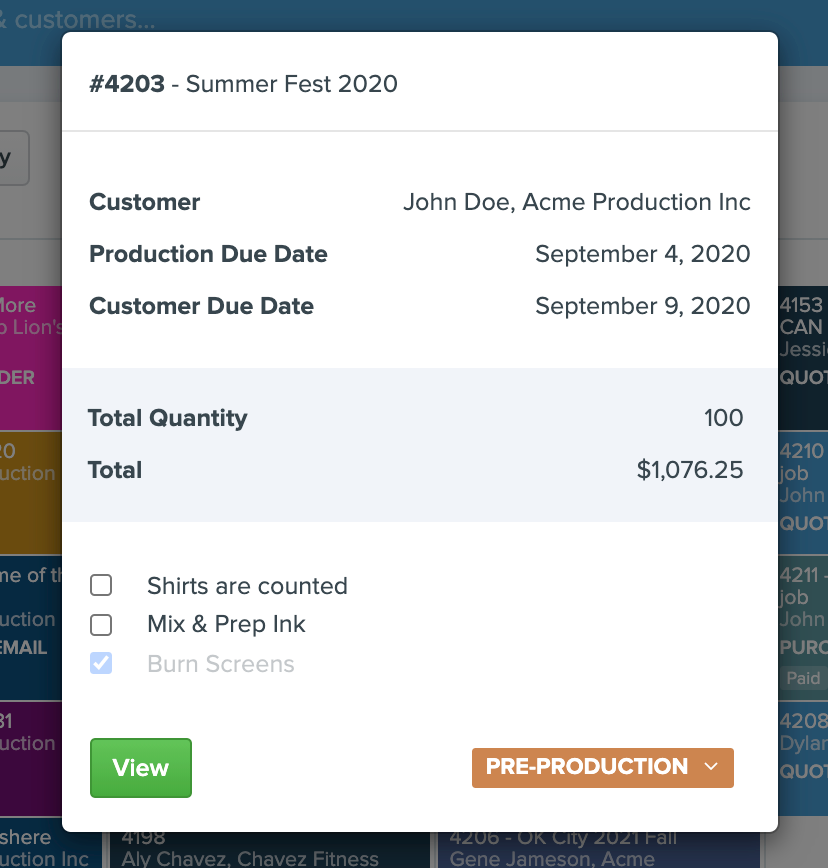 3. Use the three different calendar views
Printavo offers three different calendar views, accessible by navigation buttons and keyboard shortcuts.
The Monthly view gives you an overview of your entire month. The Weekly and Daily views will break your days down by hour for a more segmented version of your day-to-day.
You can easily switch back and forth between the following calendar views by clicking the respective buttons on the calendar, or using the shorcut keys listed below:
| | |
| --- | --- |
| Calendar View | Keyboard Shortcut |
| Monthly | M or 1 |
| Weekly | W or 2 |
| Daily | D or 3 |
| Today | T |
| Previous Month/Week/Day | P |
| Next Month/Week/Day | N |
Here's a quick look at the three views: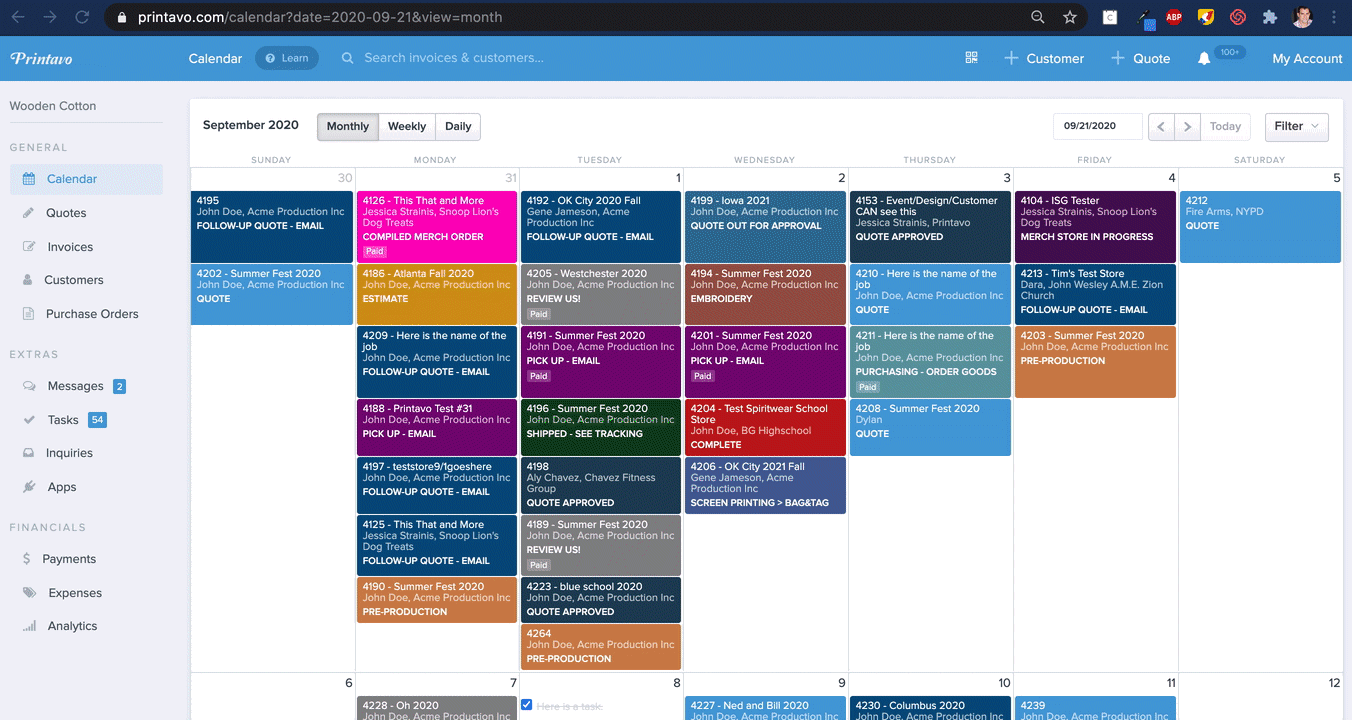 4. Rearrange jobs on your calendar
Rearranging jobs on your calendar is as simple as dragging and dropping. Drag the job card to your desired date and/or time (depending on your current calendar view).
On the Monthly view, drag and drop your jobs from day to day. Any time you drag a job to a new date (on any view) Printavo will automatically change the job's Production Due Date. Note: If you try to move a Production Due Date beyond a Customer Due Date, Printavo will provide an alert as a failsafe so as not to potentially miss a customer deadline.
On the Weekly view, you have a few more options. You can still drag from day to day, but this calendar view permits you to drag jobs within a day to reorder them by start time. Finally, you can assign the job to cover a set amount of time (hours or days) by dragging from the bottom of the job card when you see your mouse cursor change to a downward pointing arrow.
On the Daily view, you can assign the job to cover a set amount of time (in quarter-hour increments) by dragging from the bottom of the job card when you see your mouse cursor change to a downward pointing arrow.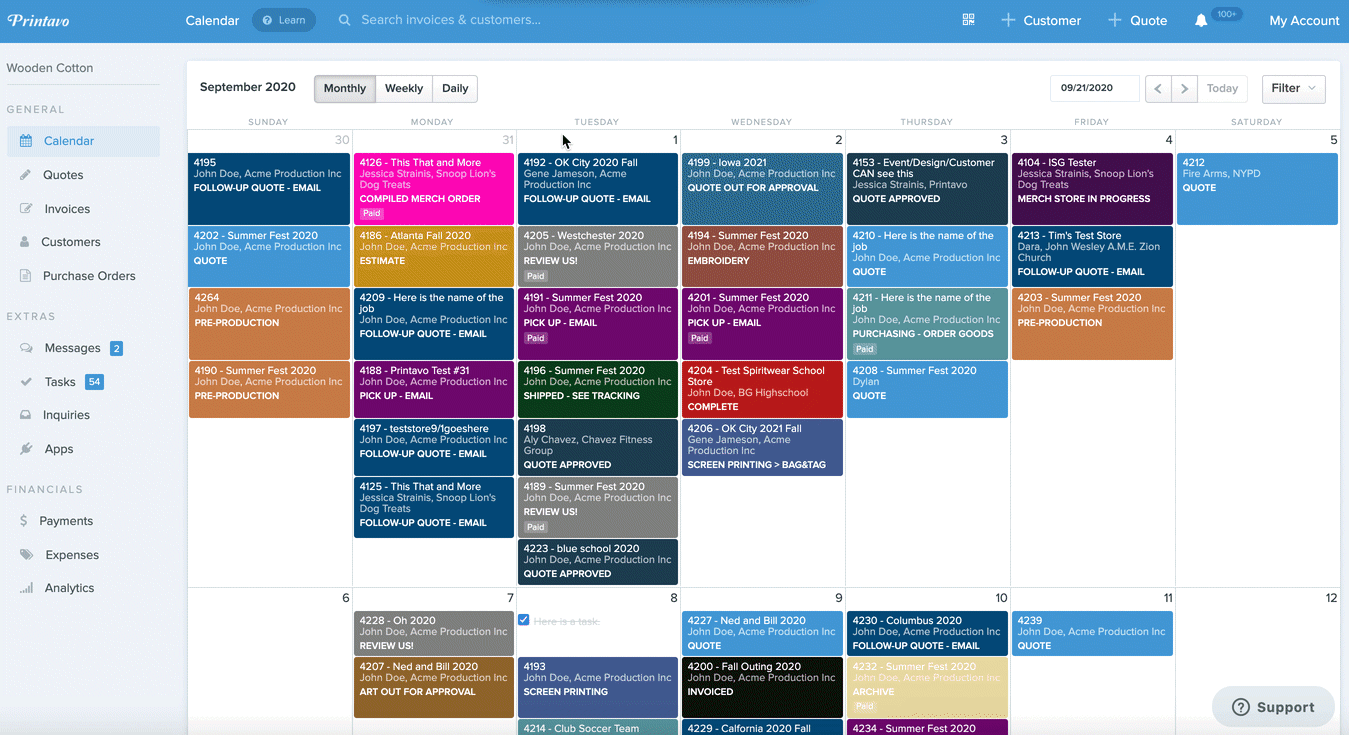 NEXT: 4.8 Power Scheduler (Premium)

PREVIOUS: 4.6 Tasks & Task Lists: Built-in Accountability