Tasks and preset task lists allow you to assign common tasks to ensure the job is done right.
Whether you're managing 3 or 50 jobs at a time, you have complex processes that must be completed. If someone doesn't complete a task you've assigned to them in Printavo, you'll know.
Note: Tasks will not disappear unless they are marked completed by an individual or deleted by an admin. Tasks are viewable via preview modal when clicking a job on the calendar, by the "Tasks" tab on an individual job, or the "Tasks" tab on the left side of your Printavo screen.
There are three ways to assign tasks in Printavo:
1. Assign multiple, job-specific tasks simultaneously with Preset Task Lists
When and why you'd do this: A lot of jobs require the same actions (think burning screens, mixing ink, printing films, etc.), so rather than typing out and assigning individual tasks every time these duties need to be done, save time by executing a preset task list. With one click, you can automatically inform relevant departments and individuals that their attention on a job is required. Creating this accountability helps ensure the work gets done.
Where: My Account > Preset Task List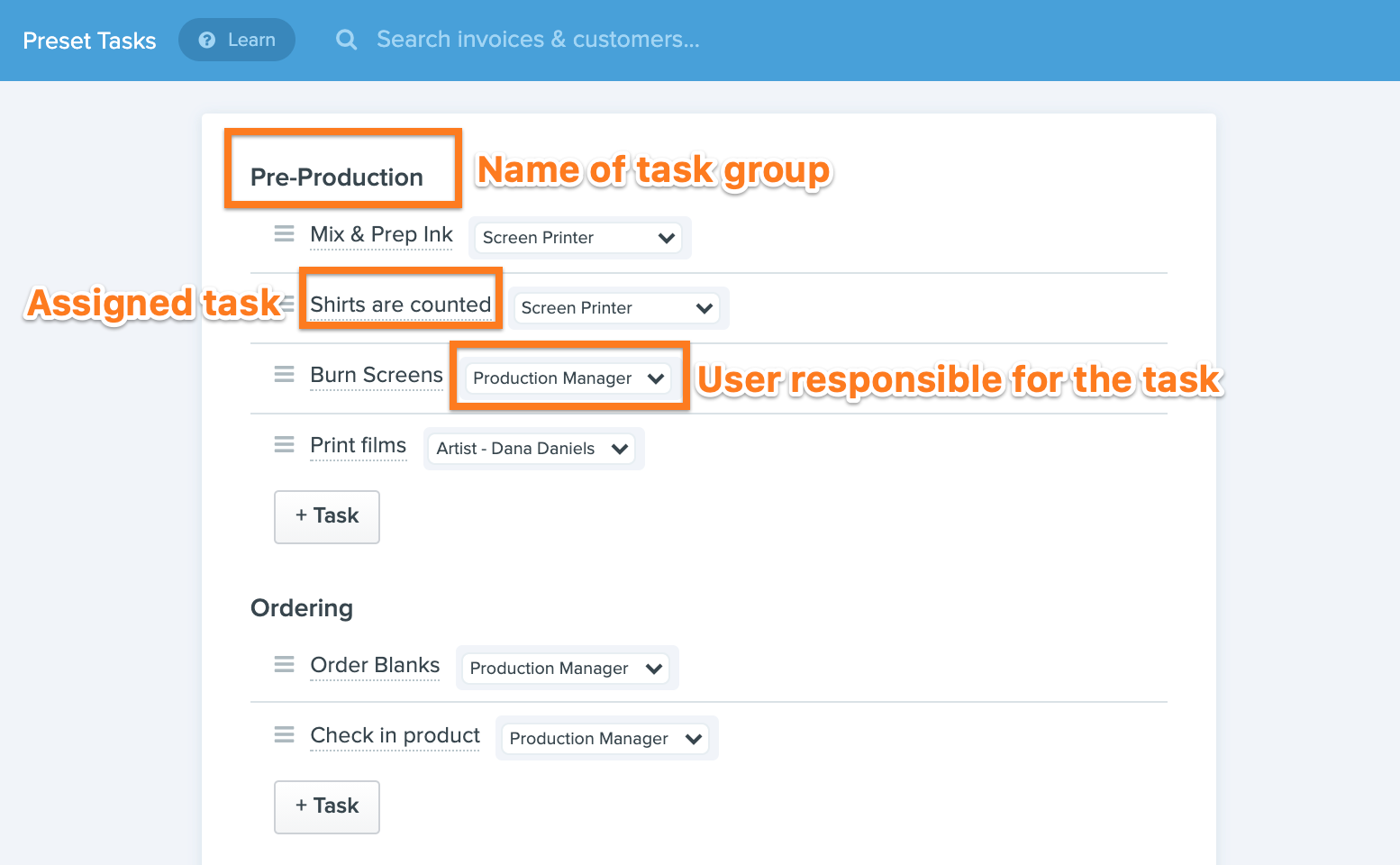 2. Assign one-off, job-specific tasks
When and why you'd do this: While task lists are great for job types with recurring tasks, sometimes a job has a particular need that would not fit the requirement for a task list. For example, if a customer asks to be called personally when the job is off press, you can set a task to remind yourself to do so. Or perhaps a few shirts were inadvertently misprinted and they need to be redone. Setting and assigning tasks will help ensure that nothing is missed on a job.
Where: The "Tasks" tab on an individual job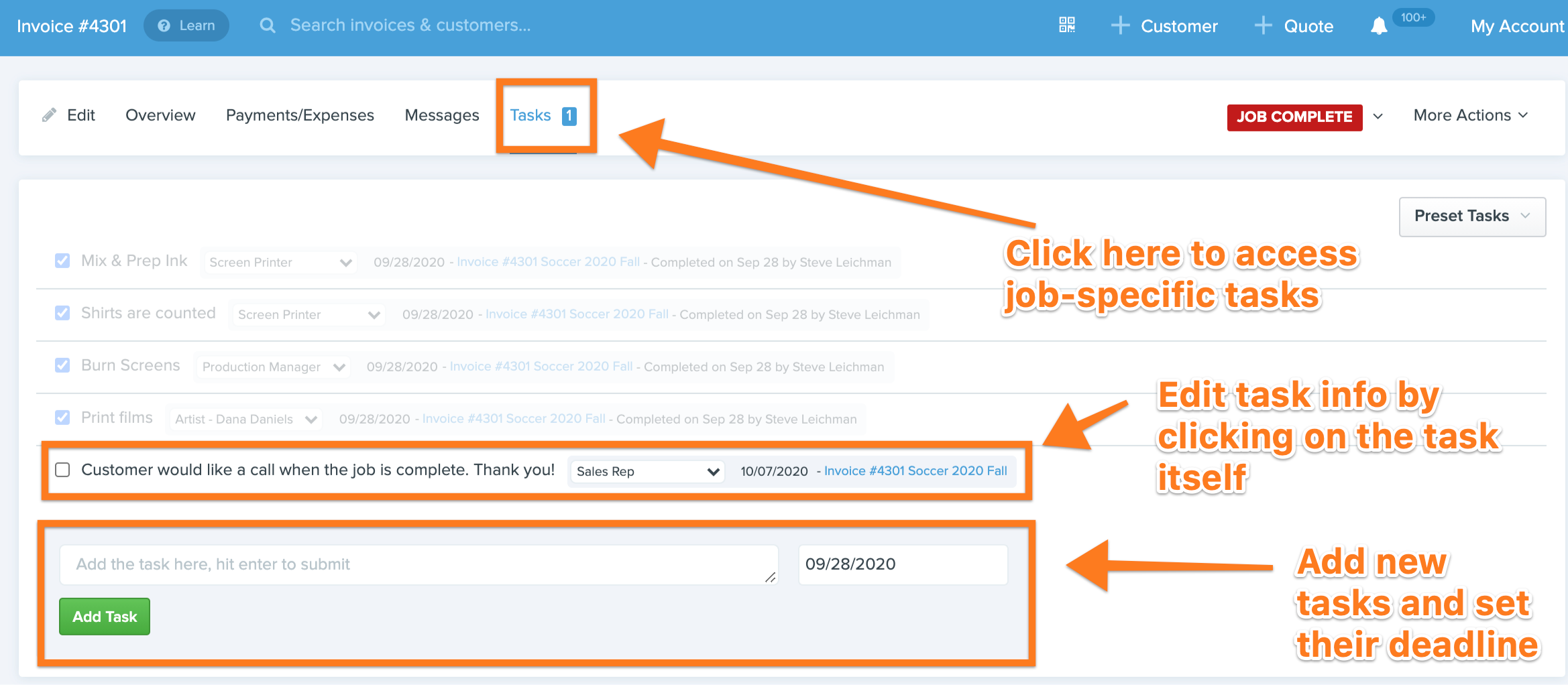 3. Assign one-off, date-specific tasks
When and why you'd do this: Occasionally you just need a reminder to do something that's not relevant to an individual job. For example, take out the trash, pay bills, or clean the shop. Printavo allows you to generate date-specific tasks that will appear directly on your calendar.
Where: The "Tasks" tab on the left side of your Printavo screen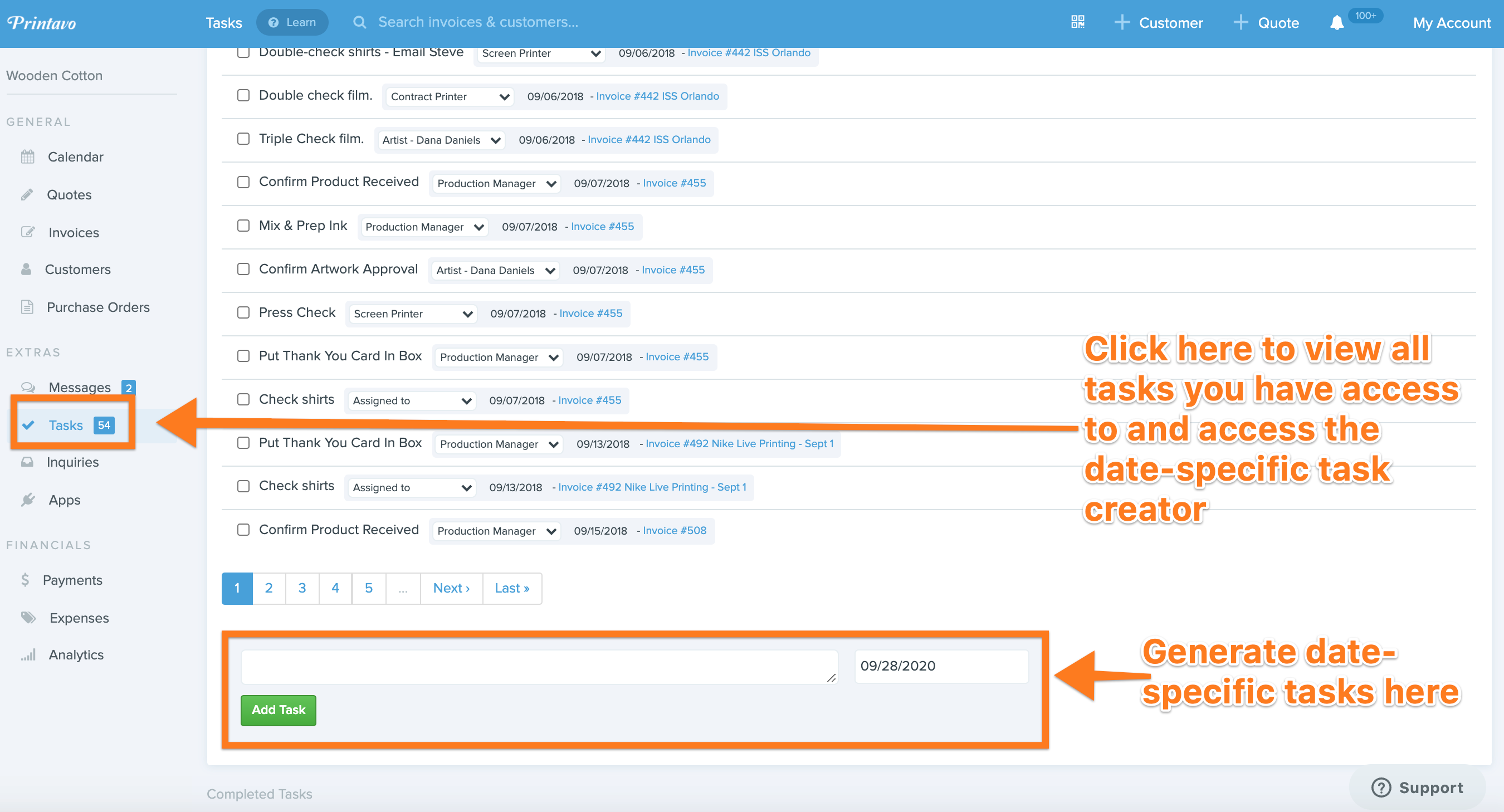 NEXT: 4.7 Calendar Management Basics

PREVIOUS: 4.5 Invoice List: Easily Track Money Owed