We're excited to introduce a new feature this week: customizable store descriptions for Printavo Merch.
View our test store here to see what HTML looks like on a live Printavo Merch online store.
You can now modify your online store's descriptions with basic HTML formatting, including:
Header tags
Bold, italics, and other text formatting
Links
Images
This will let you convey important information, add links (such as your terms and conditions or email contact), and offer a more visually appealing product for your customers.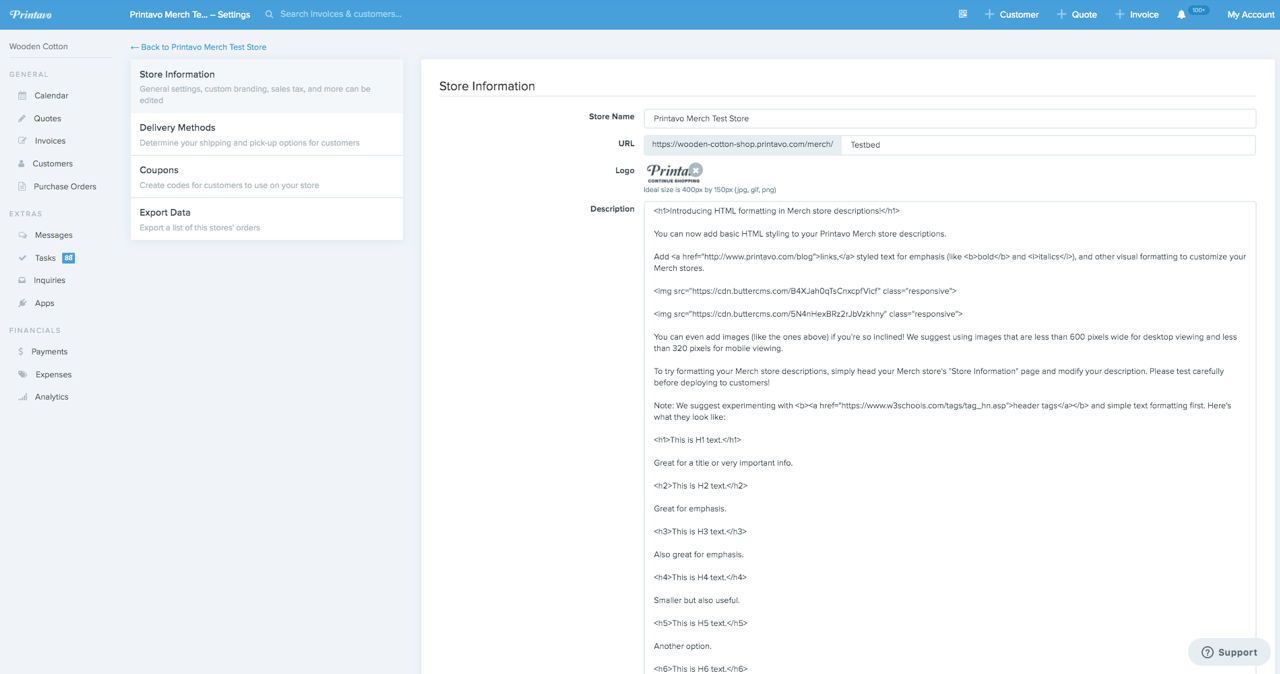 To modify your store descriptions:
Head to your

Printavo Merch stores
Click on the store you'd like to edit
Select "More Options," then click "Settings"
Under Store Information, edit the Store Description
Save your work with the button at the bottom of the page
View and refresh your store to test the changes
Tips for HTML and descriptions in Printavo Merch
Here are a few simple tips for formatting your Merch store descriptions.
Keep descriptions short


Less is more: convey only what you must.

Test extensively and notify us at Printavo Support if you discover any issues


To test, open your store in one browser tab and refresh it when you save changes to your description
Be sure to test on mobile as well

Small images work best

In general, we don't recommend images–but we're curious to see how you use them!
Images should not exceed 600 pixels in width for desktop display...
...or exceed 320 pixels for mobile display
If unsure, use images no wider than 320 pixels wide in descriptions
Currently, images are not resized–test carefully!

Headers work great for emphasis

Link to your terms and conditions

Reduce confusion and clarify exact terms
If you need some example terms and conditions, check out our

Guide to Online Stores.
We're happy to continue improving and iterating on Printavo Merch. We want to provide screen printers and custom print shops with a powerful online store tool.
As usual, you can see recent changes, improvements, and updates to Printavo on the Printavo changelog.
Additionally, here's a list of the basic HTML formatting functions.