Printavo helps shops who are not actively printing work in-house. Whether you outsource a piece of work or all orders, Printavo can help you keep jobs organized.
There are two methods shops will use to handle this.
Shareable Work Orders

: Send your Contract Printer the quote as you would send the customer.

Allowing for User access

: Create an account for your Contract Printer and follow the steps to allow them to work in your Printavo account.
Shareable Work Orders
Any Printavo subscription can utilize this method. It will involve sharing Work Orders with contract printers to copy into their system.
Create your quote

When viewing the quote, click on

More Actions

>

Work Order

This URL can be given to your contract printer

Once the job is complete, the contract printer will fulfill the order to your customer with your approval.
You can also set an automation to send the work order via e-mail using the [work-order-public-url] shortcode. For more details, view 5.3 Automation.
Allowing for User Access
For this method, a Standard or Premium subscription is needed to add Users to your account. The goal is to give a limited-access User login to your Printavo account. Contract printers can then view their orders and change them accordingly.
Each Contract Printer should have their own log-in and password to your Printavo.
Adding Users


Each subscription tier has a varied, limited amount of users.

The Lite tier has access to two, Standard has access to five, and the Premium tier allows for twenty users.

Head to "My Account" > "Users"

Click "New User" to generate a new user under the parent account
Passwords must be 9 or more characters.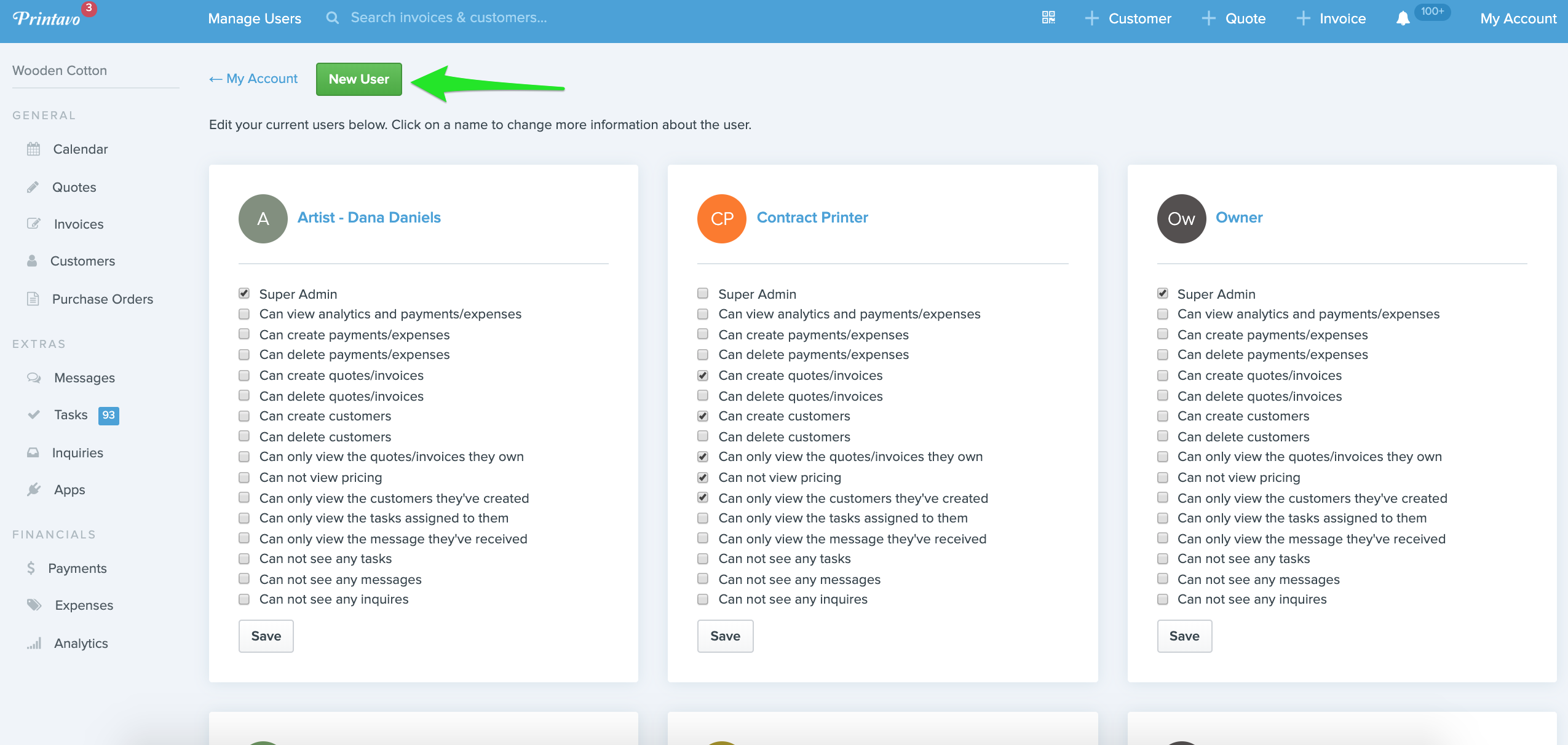 Set user permissions utilizing the checkboxes by their name
Modify Contract Printer accounts so that they only view the information you would like them
to see.
We suggest only allowing your printer to be able to have the following permissions, however, you may decide to allow more or less depending on your relationship.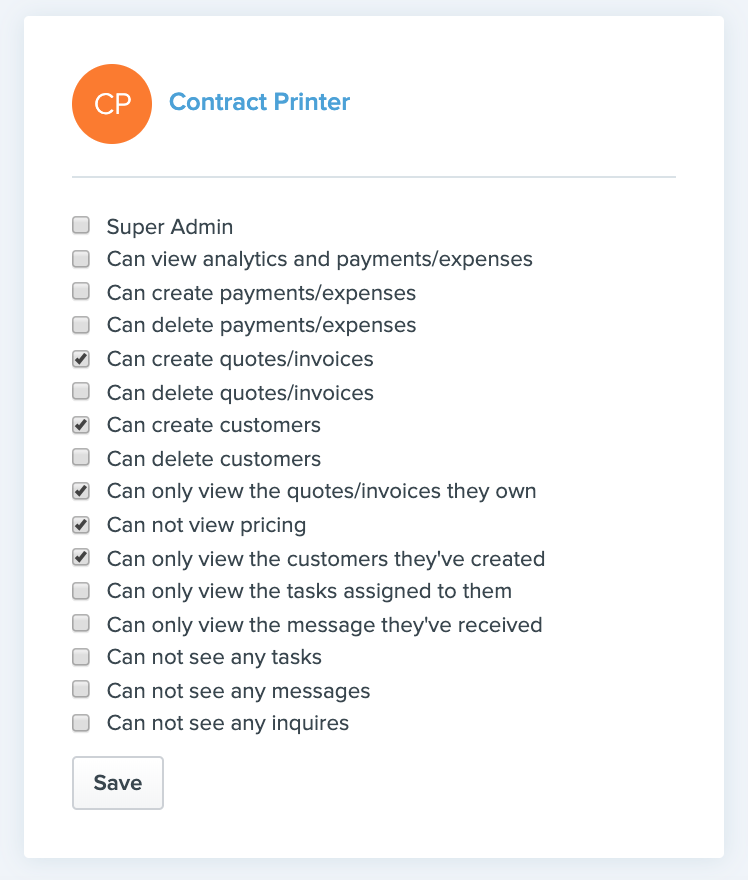 When building a quote, be sure to select your Contract Printer under "Owner."

Set up your pricing matrices to reflect the pricing you have negotiated with your printer.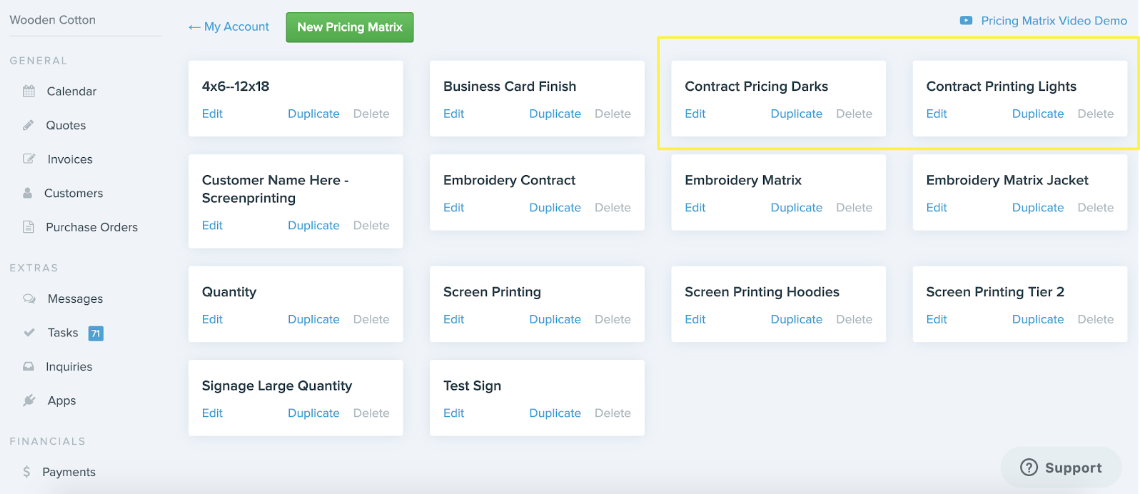 Note: When building your quote, be sure to double-check your product mark-up if you are providing the products.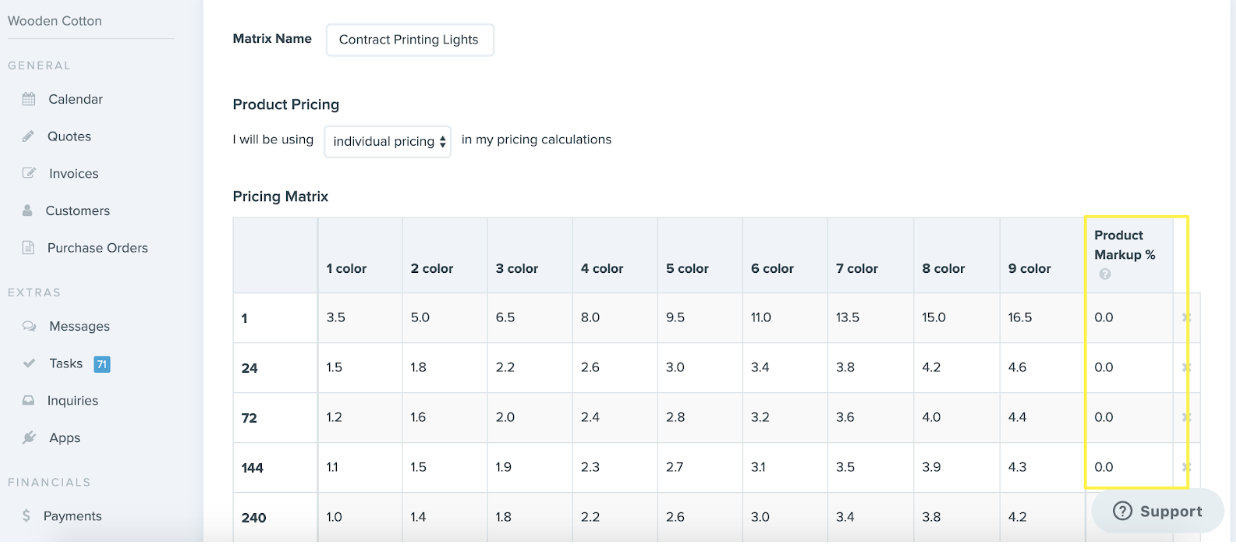 Your contract printer may then log in to their account and use Printavo to update your team on the order from start to finish.
When the job is finished, have your printer upload a photo of the product under "Production Files" for your review to ship out.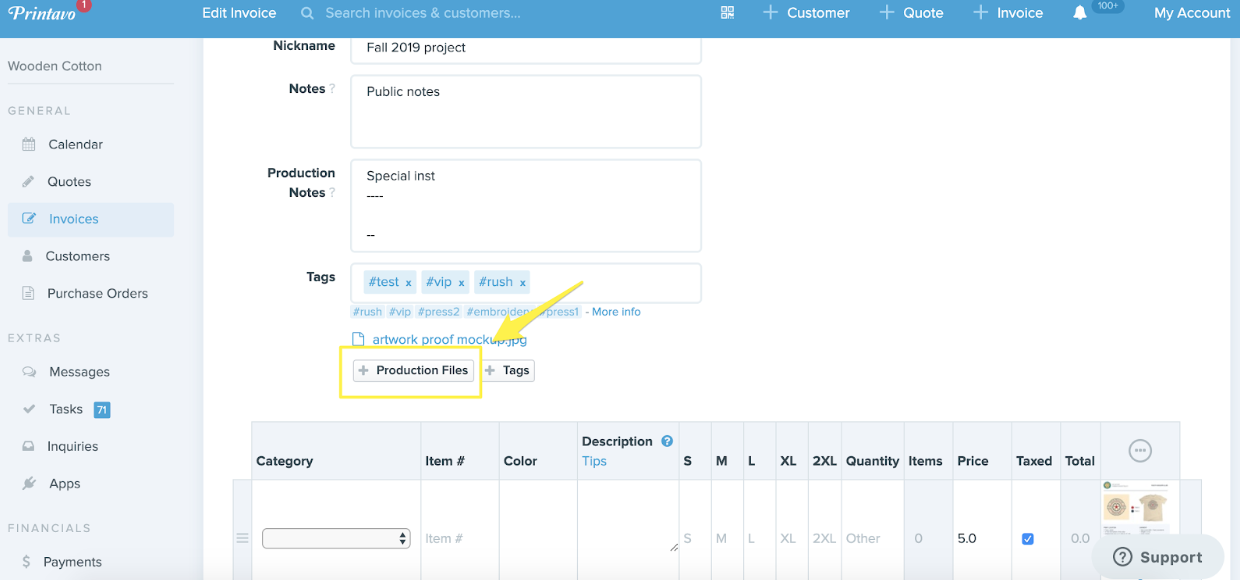 You can have a status set to e-mail you when the file has been uploaded. You can do this under "Status Change Notifications."
Once approved, you can switch your status to notify the printer that the order is good to ship.
They can use Box Labels, Packing Slips, and can print Shipping Labels by clicking "More Actions" under the individual invoice.
This will utilize your logo so that all they have to do is click & print.