In this section
Customizing a merch store
Merch stores allow for customizations such as:
Store name
URL - example: printavo.com/merch/customization-this-part-store-name
Store logo
Description to show up on the homepage
Password protection - More information
Delivery methods
Store graphics
And much more!
How to customize your Printavo Merch Store
These changes can all be changed by:
Visit a store
Clicking on Settings at the top right
Editing the information as needed
Clicking Save at the bottom
Printavo Merch graphics bundle
This graphics bundle includes a group of Photoshop PSD files to help you get started on the correct product, banner, and logo sizing.
Recommended sizing for each graphic is:
Product: 1000px by 1000px
Banner: 1200px by 630px
Logo: 400px by 150px
Creating coupon codes for merch stores
Want to give a discount on a Merch store? Head to the store you want to create a code for and click on settings.
From there:
Click on coupons on the menu towards the left.
Click on + Add Coupon

You can manually enter a code for customers to use as a coupon.
Clicking on Generate Code will create a random code for your coupon.
Set the amount of the coupon.
Set the limit of how many times the coupon can be used.
Set an expiration date for the coupon.
Delete the existing coupon above.

Click Save to finish creating your coupons.
Will coupon codes stack if a customer uses multiple?
If a customer uses multiple coupon codes, they will not stack and add additional discounts. The coupon code that results in the greatest discount will be applied.
Is there a way to have a discount code that will not affect the fundraising amount?
Yes, if the fundraising is in dollar amount, a coupon won't affect the fundraising amount. If the fundraising amount is in percentage, a discount code will affect the fundraising amount.
If my coupon code is not working, how do I fix it?
If your coupon code is not working and you are receiving an error make sure that you try the following:
Delete and recreate the code

Make sure the code does not have any spaces
Do coupon codes affect shipping cost?
Shipping cost is added after any discounted coupon codes.
Customizable store description with HTML
We're excited to introduce a new feature this week: customizable store descriptions for Printavo Merch.
View our test store here to see what HTML looks like on a live Printavo Merch online store.
You can now modify your online store's descriptions with basic HTML formatting, including:
Header tags
Bold, italics, and other text formatting
Links
Images
This will let you convey important information, add links (such as your terms and conditions or email contact), and offer a more visually appealing product for your customers.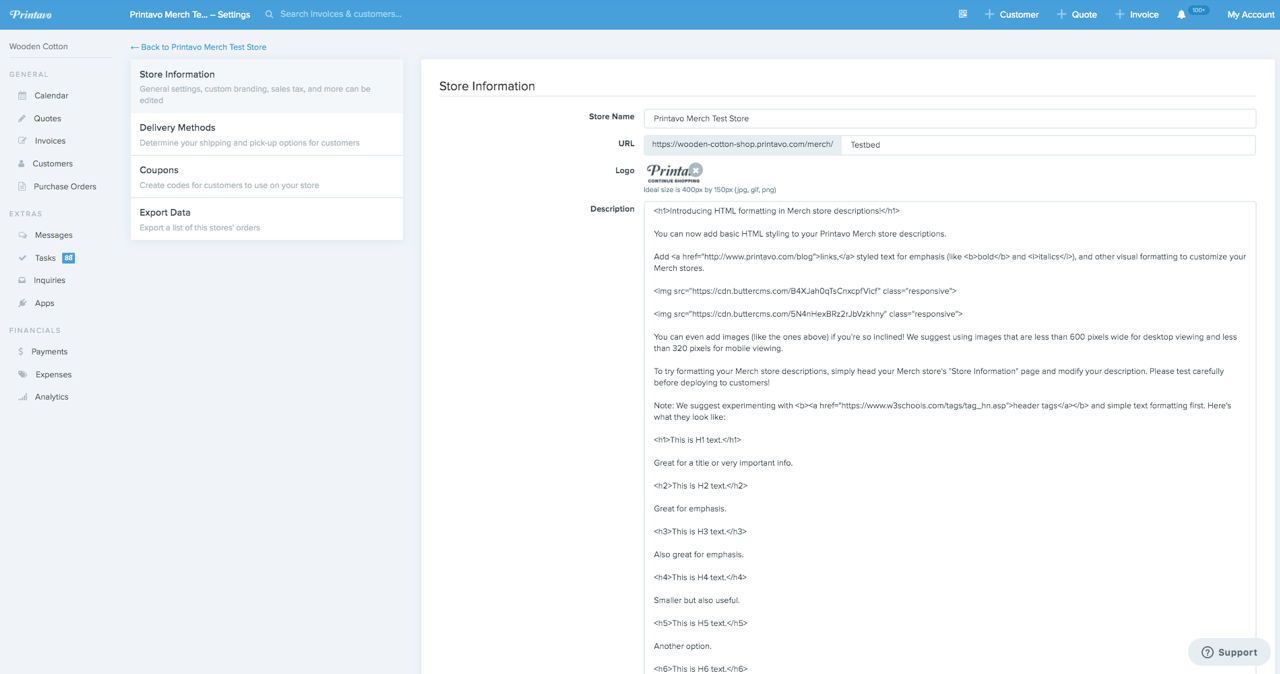 To modify your store descriptions:
Head to your

Printavo Merch stores
Click on the store you'd like to edit
Select "More Options," then click "Settings"
Under Store Information, edit the Store Description
Save your work with the button at the bottom of the page
View and refresh your store to test the changes
Tips for HTML and descriptions in Printavo Merch
Here are a few simple tips for formatting your Merch store descriptions.
Keep descriptions short


Less is more: convey only what you must.

Test extensively and notify us at Printavo Support if you discover any issues


To test, open your store in one browser tab and refresh it when you save changes to your description
Be sure to test on mobile as well

Small images work best

In general, we don't recommend images–but we're curious to see how you use them!
Images should not exceed 600 pixels in width for desktop display...
...or exceed 320 pixels for mobile display
If unsure, use images no wider than 320 pixels wide in descriptions
Currently, images are not resized–test carefully!

Headers work great for emphasis

Link to your terms and conditions

Reduce confusion and clarify exact terms
If you need some example terms and conditions, check out our

Guide to Online Stores.
We're happy to continue improving and iterating on Printavo Merch. We want to provide screen printers and custom print shops with a powerful online store tool.
As usual, you can see recent changes, improvements, and updates to Printavo on the Printavo changelog.
Additionally, here's a list of the basic HTML formatting functions.