In this section
Analytics: Quotes/Invoices Created
Check out the 'Financials' section and in the 'Analytics' tab, hosted under 'Quotes/Invoices Created' you will receive insight on how many customer quotes and invoices were created during a specified time.
Analytics: Calculating Sales Tax
Sales tax owed can be found in the 'Financials' section, in the 'Analytics' tab (left sidebar), under 'Sales Tax'.
From here, you can find out how much sales tax is owed for a period of time all while keeping track of where the job status (e.g. 'Art Approved', 'Ready to Print', 'Completed', etc.) is in the workflow.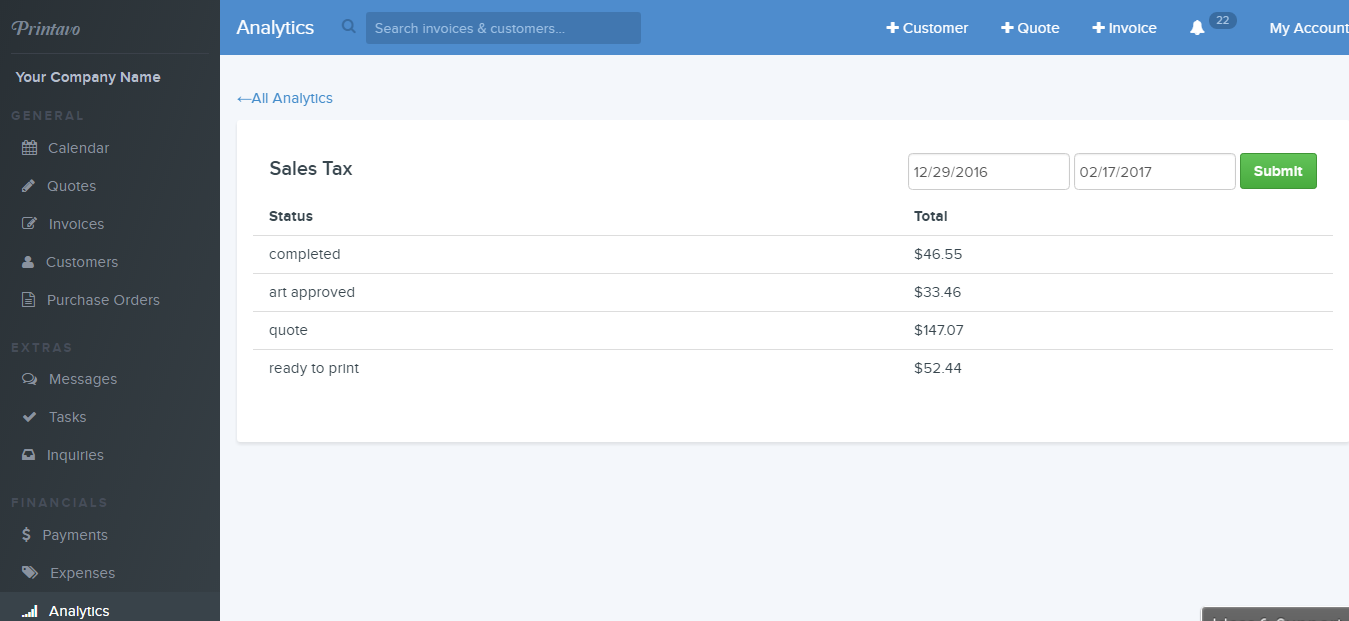 Analytics: Total Sales
Total Sales provide reporting on both paid and unpaid quotes/invoices based on their Created or Customer Due Date.
To track total sales by status/owner, click Analytics > Total Sales.
Here, you can track total sales by status and owner.
What information does the total sales report include?
The total sales report exports the following information:
Invoice
Customer
Custom Created At
Net Sales
Discount
Tax
Total Sales
Status
Analytics: Revenue & Expenses
Want to know just how well your business is doing? We thought you would like to know!
Head to the 'Financials' section (left sidebar), click the 'Analytics' tab, and hosted under 'Revenue & Expenses' you will receive very beneficial insights about your business!
You can also set date ranges to view data for a specified time for comparative analysis.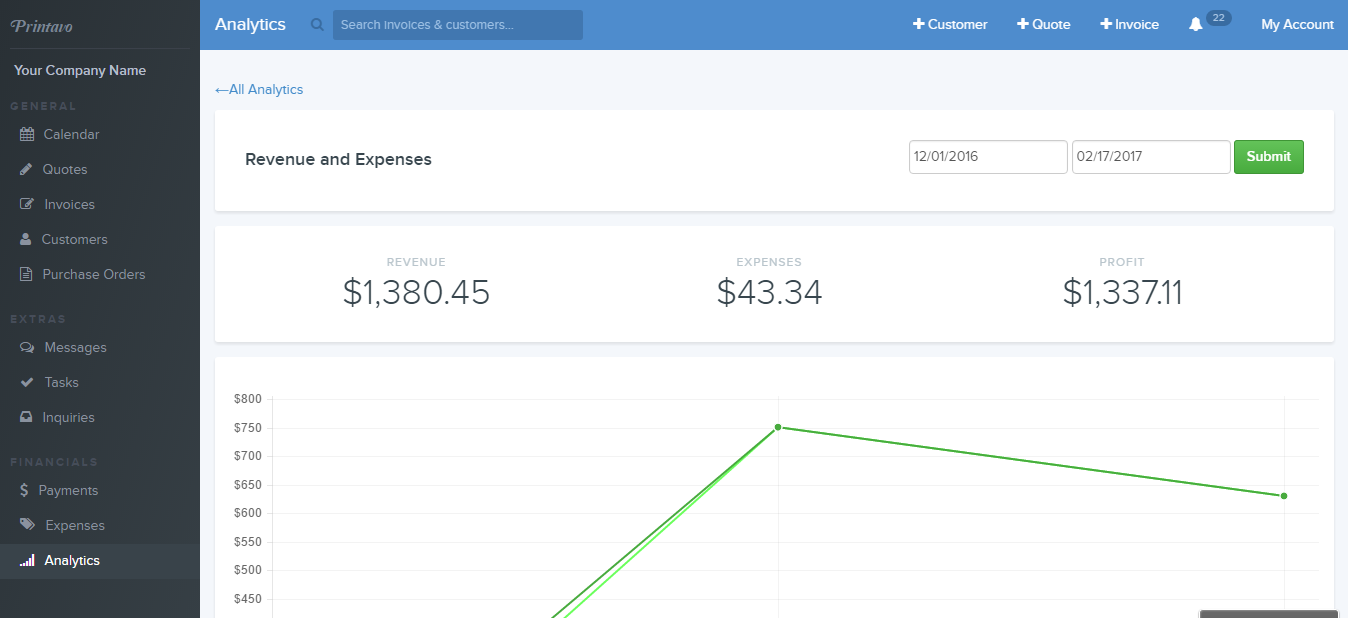 How to view accounts receivables?
There are three ways to view aging reports/accounts receivables in Printavo.
1. View All Invoices and select a date range - 1-30 Days, etc
2. Click on any customer, then select Total Owed to view detailed invoices for that customer
3. View Analytics > Account Receivables to drill down by invoice on what is owed to you
How can I see our top customers?
When viewing the Sales by Customer chart, you can view the total amount of invoice sales a customer has based on a certain date range.
Head to Analytics > Sales by Customer
Click the icon to select if you'd like filtering by Customer Due Date or Created Date
Select the date filters
Click the Total Sales column header to filter the data
How do I change dates on my Sales Analytics report?
Sales reports under Analytics have the option to change the date used for the CSV download. To change the date click on the calendar icon and chose the date you would like to use.
Here is a picture of what it looks like in Printavo:

Why are "Sales by Line Item Category" and "Revenue and Expenses" charts different?
When viewing Sales by Line Item Categories and Revenue and Expenses charts, your numbers may not align. This is because the Revenue and Expenses chart looks at total payments received, while Sales by Line Item Categories is based on Total Sales.
My past due invoice totals don't add up!
The way the 'Total Unpaid' report works is when an invoice's 'Customer Due Date' is passed, the amount outstanding will add into that sum for the corresponding time frame. If the 'Customer Due Date' hasn't passed yet, it won't be included in that total.