In this section
How does quote approval work?
You can now request quote and artwork approval separately in Printavo. You will be able to create as many approvals as you'd like in My Account > Approvals.
How Approvals Work
To request approval, you will:
Edit a quote/invoice
Click on the drop-down arrow on the right of each line item, then select "Attach Mockups" to upload files
Click Save on quote/invoice
Click Messages at the top of the quote/invoice
Click Attach Approval and select an approval
(Optional) Send a message to the customer notifying them of the approval
Here's a great video explaining how multiple approvals work.
Automation of Approvals
You can also fully automate your approval process with additional automation in Printavo. This functionality will save you a lot of time clicking and reducing repetitive tasks.
Here are some great examples of how to use our brand new Automation:
Automatically request Quote Approval when the QUOTE status is selected
Automatically change the status when Quote or Artwork Approval has been completed
Automatically request Artwork Approval when a certain status is selected
Automatically request 50% downpayment when Artwork Approval has been completed
Once an order has been paid in full, change the status
(Note: To access all automation, you need to be on premium.)
Here's a detailed video on how this all works.
Sending Quotes & Invoices to customers
In Printavo, you can email a customer your quote/invoice by doing the following:
View the quote/invoice you would like to send
Click Messages at the top
Fill out the information you'd like to send
Click Send
Note: A URL to the invoice will automatically be sent with the email for the customer to view.
Where can I find a timestamp for customer approval?
At the bottom of every quote/invoice, there is a 'History' section that will record every action taken on the order, even the time it was approved!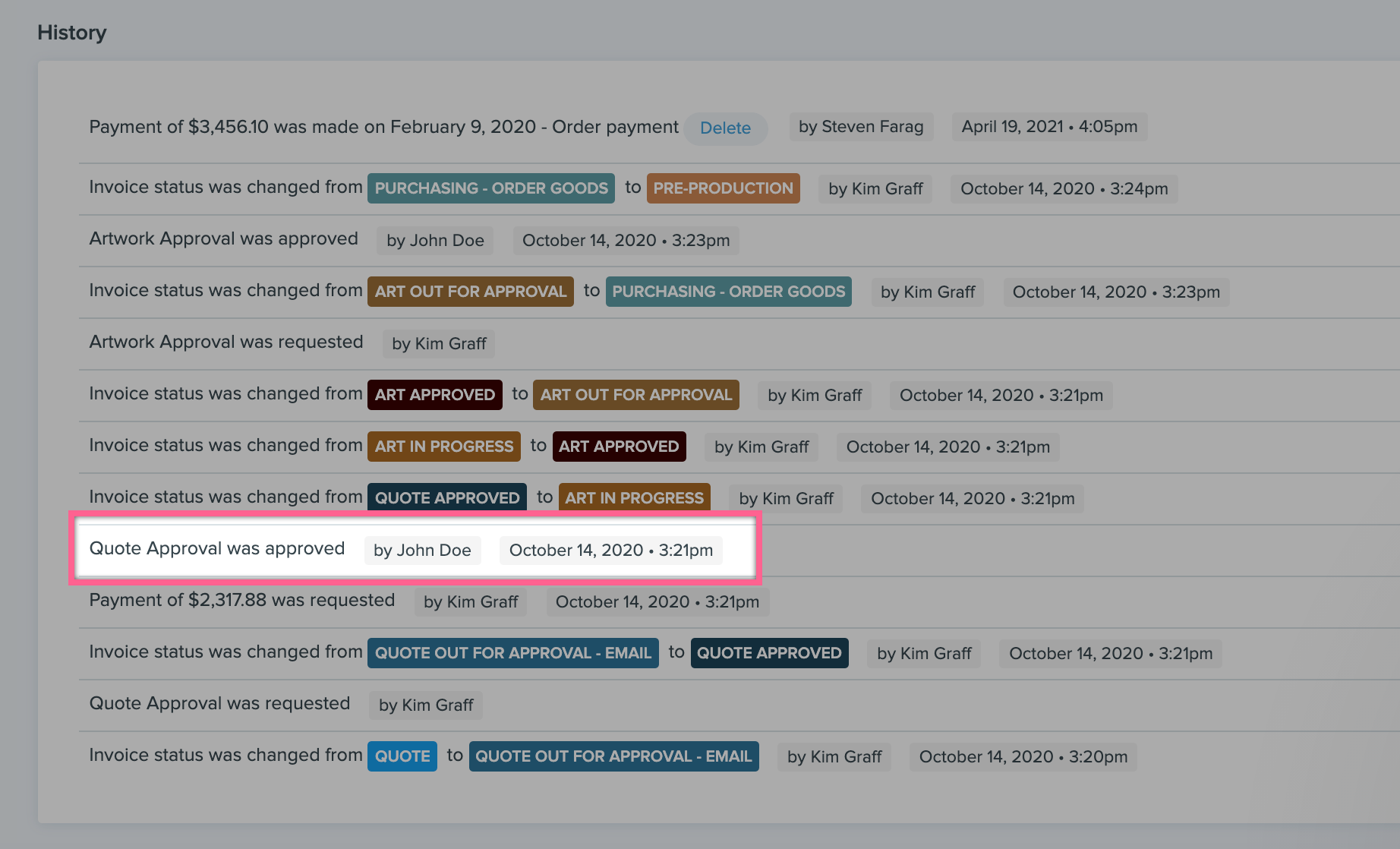 Can I have multiple approvals at the same time?
We currently allow one approval at a time but we recommend creating a separate approval called Order Approval which can be used for multiple approvals (ex. Quote and Artwork) at once.
Who receives approval notifications?
The person who requests the approval and the invoice owner will receive an email notification on quote approval. This will only happen, however, when the customer approves the quote through the public invoice page. If the customer approves with the shop internally or using a different flow, email notifications will not be provided.
Can a quote approval be removed and re-approved?
Yes, a quote approval may be removed and sent for re-approval. To do so:
1. Go to the quote/invoice
2. Click "More actions"
3. Click "Unapproved"