In this section
How can I start a paid Printavo subscription?
Starting your Printavo subscription is fast and simple!
After your free trial, you can choose from any of our three subscription plans by going to: My Account and clicking 'Update Billing/Subscription Information'.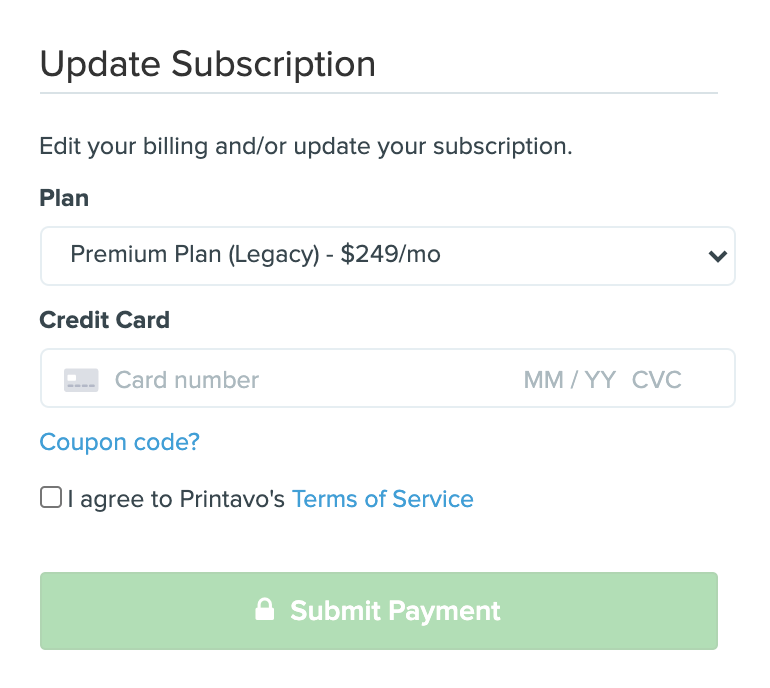 Once here, enter your credit card information and confirm. After this, you can use your Printavo subscription right away!
How can I cancel my Printavo subscription?
To cancel your Printavo subscription email us from your admin account with a cancelation request to success@printavo.com
Cancellation Reasons
Price: The cost of the subscription is too high to justify use
Product: If they're an ideal customer that has an issue with the software, it is not helpful or is hindering their workflow process in some way. Or if they handle multiple types of decoration and don't feel we can handle that.
Business Closing :(
Not Ready: Shop is not ready to implement Printavo into their workflow, usually too small of a shop/need more time to phase out old workflow process/ need to get higher up approval/looking at other software to compare, etc.
Bad Fit: This is a customer that wasn't an ideal fit for Printavo. No issue with Printavo itself, just not a good fit for the kind of shop or do not have a need for our primary services.
Can I pause my subscription?
We are unable to pause subscriptions however if you cancel, you can always come back and none of your information will be lost, you can pick up where you left off.
How do I upgrade/downgrade my subscription?
You can always change your Printavo subscription at My Account > Update Billing/Subscription Information
Your billing will be automatically pro-rated.
How fast do changes go into effect after I change my subscription?
Changes occur immediately; you can use your new plan features going forward.
How can I view receipts for our Printavo subscription?
Head to
My Account
>
Receipts
to view all receipts for your subscription. These receipts can be printed for record-keeping.

Does Printavo have a referral program?
You can log out and head here - https://www.printavo.com/users/password/new
You'll be able to reset the password with your email address from this page.
Can a shop other than a screen-printer use Printavo?
Printavo works very well for many shops that handle multiple departments such as screen printing, direct-to-garment, and embroidery.

We suggest the shop to utilize a combination of statuses, tasks, order nicknames, and order production notes information.

Statuses can be utilized like this:
Quote
Need Artwork Finalized
EMB: Need Stitch Count
EMB: Ready For Stitching
SP: Prep Screens/Ink
SP: Ready to Print
Completed
Shipped
Tasks can be utilized in the same fashion to let the team know to order goods, mix ink, count garments, etc.

Some shops use the Nickname field on an order to let the team know this job has multiple decorations, ex: "#123 - SP + EMB" for screen printing and embroidery on this job.

Don't forget to always add as much information into the Production Notes and Imprints fields of an order. More information the better here for your team.
Does Printavo work with both print and screen printing shops?
Printavo has helped shops that do a variety of different kinds of printing, so it should work for what you're looking for. Contact success@printavo.com for more information!
How can I submit a suggestion or idea?
We love your ideas to help improve Printavo. We constantly check them and get feedback from our shop to always improve Printavo. To leave an idea for us, head to our internal Ideas page here.
Note: You can view updates Printavo has released here.
How do I update my password?
To update your password:
1.) Head to 'My Account'
2.) 'Personal Information' section
3.) Enter a new password in the 'Change Password' field
4.) Re-enter the password in 'Password Confirmation' field
5.) Update! (Use old password to confirm and successfully update changes)
How can I change my password without knowing the current one?
You can log out and head here - https://www.printavo.com/users/password/new
You'll be able to reset the password with your email address from this page.
Can you have more than one company on a Printavo account?
At this time no. We feel accounting would be difficult with multiple companies in one account.
But we do offer a discount if you open up a second Printavo account so please reach out to us for more info on that!
Are there online groups/social media communities where I can network with other shops?
Of course! We have compiled a list of groups to join where you can network, talk shop, and get to know others in the printing world.
How much storage do I get?
We only limit per file you upload. Currently, the limit for each file is 50mb as part of your storage.
How secure is my data in Printavo?
The security and privacy of your data are very important to us, and we have taken significant measures to protect it, through both technical and procedural processes. Printavo is hosted on secure Amazon Web Services in the United States (Virginia), with SSL 256-bit encryption. All data is encrypted within our system. Additionally, all data transmitted to OrangeQC is done securely through industry-standard protocols (SSL/HTTPS).
Tips & Tricks for additional safety:
- Avoid sharing any log-in information.
- Make sure you log out of the device you have your account logged in/ or that the device has password protection.
- Make sure your password has at least 13 characters and does not include any of your personal information.
- When Users leave your company, make sure their User credentials are deleted from your account. to do so go to My Account > Users > Delete.