In this section
Here's a great video on how to use the calendar.
If you would like the new calendar to be enabled on your account, please contact support at support@printavo.com. It is also important to note that this new calendar will be enabled on all accounts in the future, but at this time we are just giving it to shops who ask for it.
Filtering your calendar
Printavo's calendar allows you to filter jobs that only pertain to your role. For example, if you're in the Art Department, you only want to view jobs that need to get approved and followed up on.
To filter the calendar:
Head to the Calendar page
Click Filter at the top right
Select the statuses you'd like to see
Note: You can click "Select All" or "Select None" at the bottom of this Filter dialog
Printavo vs Google Calendar
Google Calendar works great for that until you begin to grow your shop. Having multiple systems to do different things that don't communicate together doesn't scale well. This is where Printavo comes in to make your life easier.
Printavo integrates scheduling, invoicing, payments, analytics, approvals, and much more into an easy-to-use platform. You and your team will be able to work together, reduce mistakes and increase communication.
Using Tags
Tags are a new way of keeping track of orders. Examples of how you can use them are tagging types of printing, presses, print locations, people, tax types, and more.
Creating
To use a tag, create/edit an invoice, click on "+ Tags" and type in the tag. You will need to start with "#" first and then hit the enter button to save.
Calendar Usage
Lastly, on the calendar, you can click "Filter" on the top right to filter by tags as well. This will be helpful, for example, when viewing all embroidery orders that are using the status "In Progress".
Note: Tagging is a Premium feature
How do I drag and drop orders directly from the calendar page?
Yes, this is possible by viewing the Weekly or Daily view of your calendar. From there, click and hold the bottom of the job and extend it as far as you'd like.
How do I get started on the new calendar?
To get started on the new calendar email us at support@printavo.com to upgrade. Note: once you upgrade, you will not be able to go back to the old version of the calendar.
My due dates are a day off, what's happening?
Generally, this is due to a timezone issue on your account. Head to My Account > Personal Information and make sure your timezone is set correctly.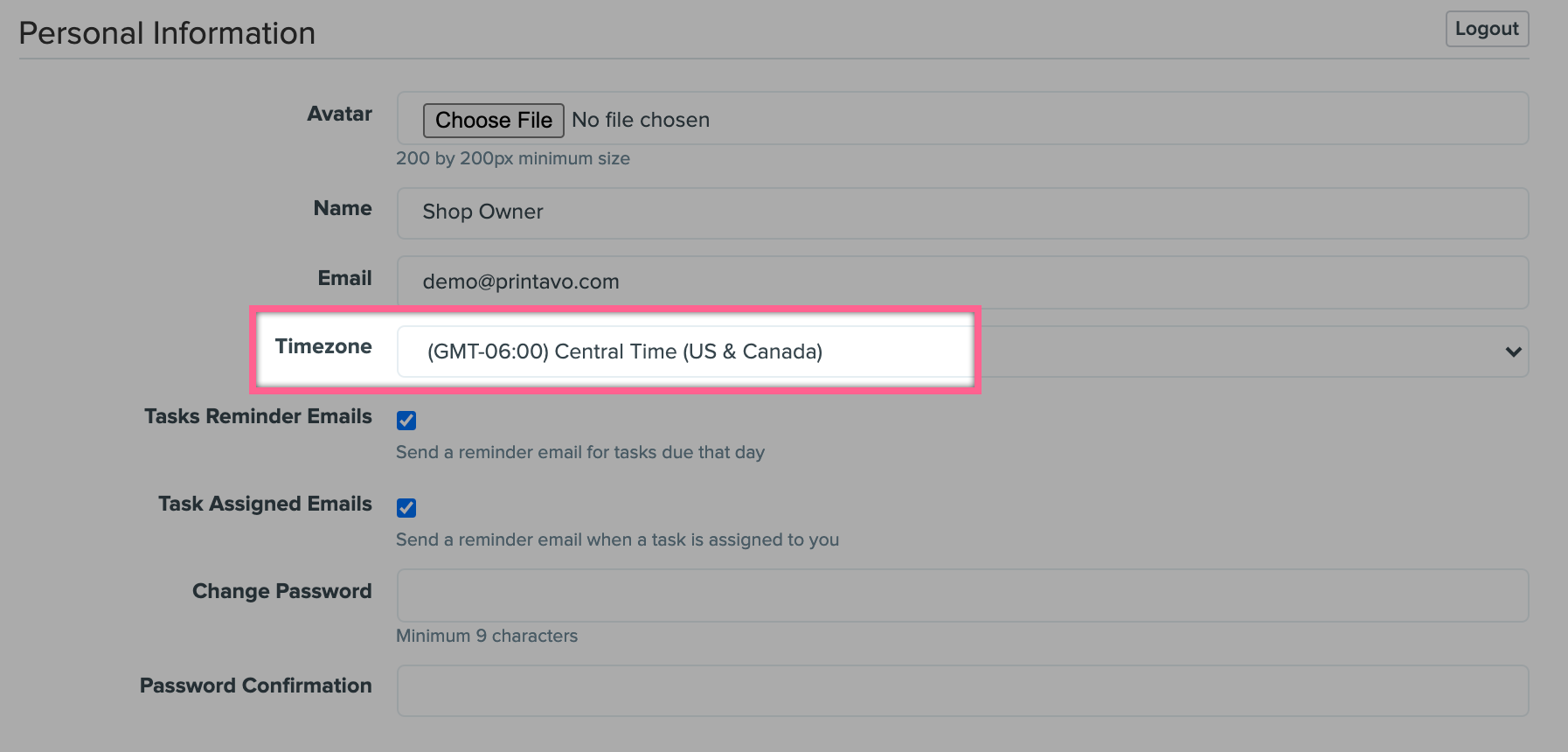 Error in Calendar
If you are receiving an error in the Calendar after you modified the date, make sure you are entering the date in this format day/month/year. After entering the date in this format, refresh your page and the error should be fixed.
If you are receiving any other error please contact support@printavo.com
Can I update a status from the calendar page?
From the calendar page, click the job you would like to change, then click on the current status button (bottom right), your list of statuses will populate and you will be able to change the status right from the calendar page.
Here is a picture of how it looks in Printavo: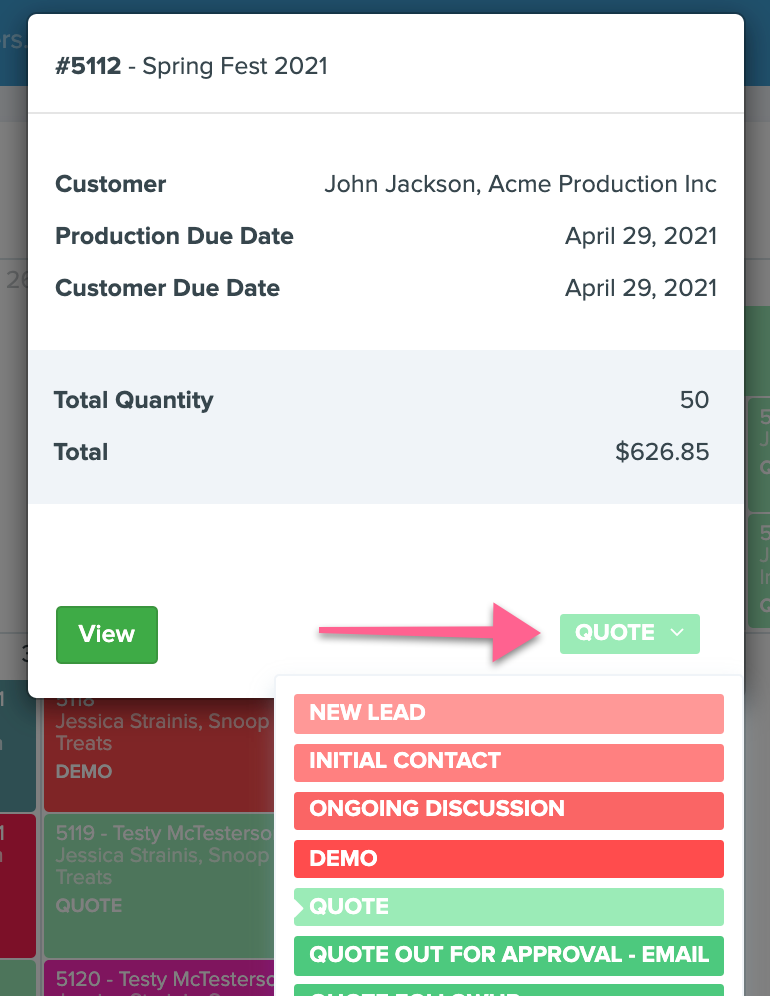 Can I view tasks in the calendar?
You will be able to see tasks that are not associated with a quote/invoice in the calendar.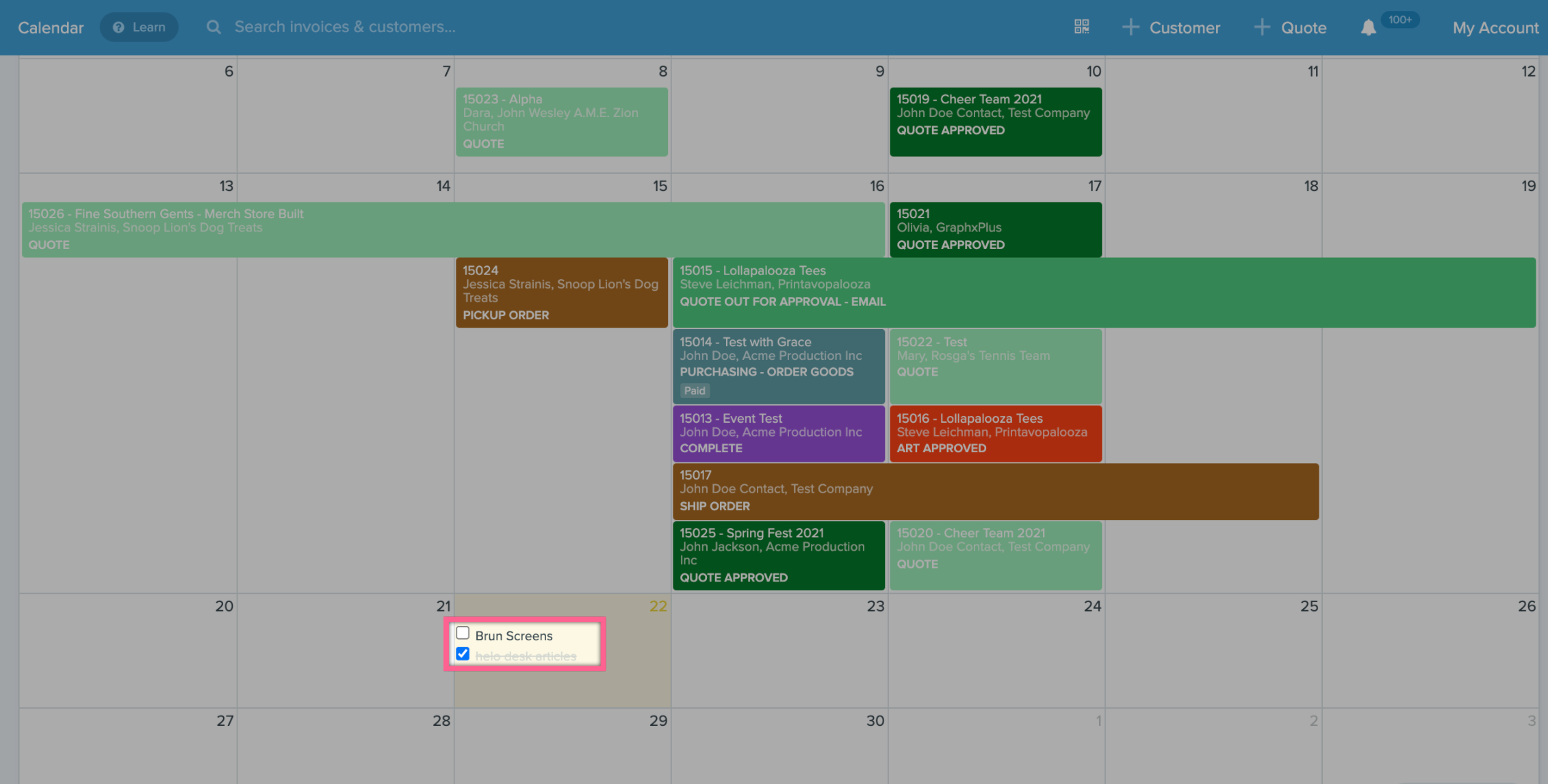 To view tasks that are associated with a quote/invoice in the calendar, click on the order in the calendar. The tasks will be shown at the bottom of the order summary.