Applying imprint, mockup, and pricing information to a line item or line-item group is a critical part of the quoting process.
To ensure you're providing a sufficient amount of information about a job to your customer, in this article we will cover:
Note: This information has been broken down into separate parts for the instructional purposes of this article, but all desired Line-Item Group information may be added at once.
Adding imprint information to a Line Item Group
Imprint information in Printavo refers to the details of the print or design you'll be applying to the product(s) in the associated Line-Item Group. To add imprint information, simply click on the "Imprint" button underneath your desired Line-Item Group.
Once opened, you're free to add print details (e.g., print location, pantone info, thread counts, etc.).
If you won't be adding a pricing matrix or an image, click "Done" to save your work.
Need to edit your imprint? No problem! Just click the "Edit" button of the imprint you'd like to manage.
Adding mockups and tech packs to a Line Item Group
Mockups and tech packs can be added to a Line-Item Group via the "+ Mockup" button within the "Imprint" modal. You may add as many images as you'd like per imprint, though each individual image must be smaller than 200MB. Any image file type can be used as a mockup on an imprint, including PDFs.
Note: The image must have no more than 100,000,000 pixels in order to successfully show the image preview.
Note: You may also add mockups to individual line items to help clarify product information for your customers and your production team. Simply click the downward-facing arrow on the right side of the line item to add your file(s).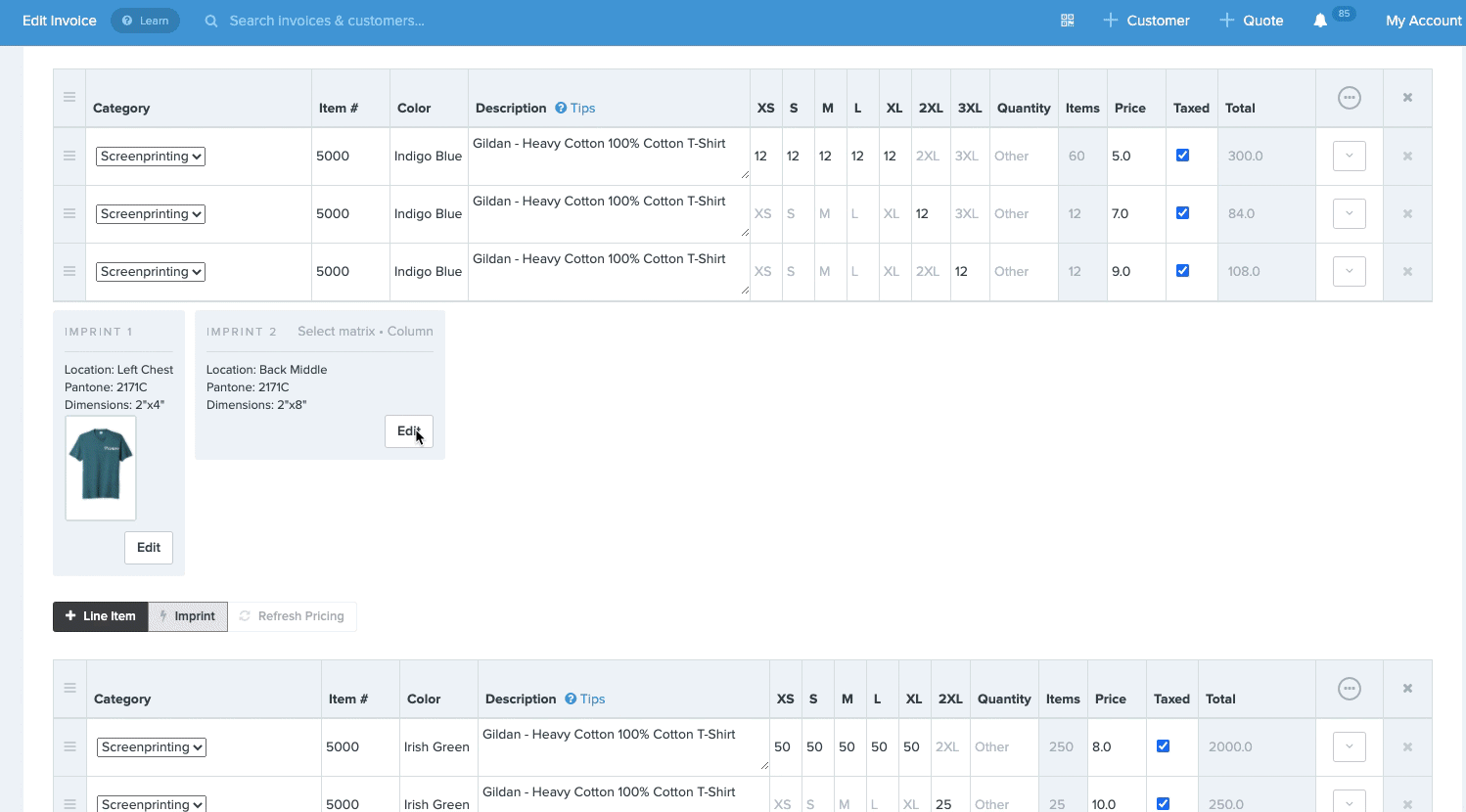 Adding mockups using Printavo's Mockup Creator
Not everyone in a print shop is proficient with advanced photo editing software like Adobe Illustrator or CorelDRAW, so Printavo built an easy-to-use Mockup Creator to help your team members quickly generate proofs to show your end customer.
With a few simple clicks, users can easily add, scale, and rotate images on either pre-rendered or custom products!
Click here to learn more about Printavo's Mockup Creator!
Adding price information to a Line Item Group
Automatic pricing with Printavo's Pricing Matrices
You can easily apply a pricing matrix you've created to apply to the total quantity of any Line-Item Group. To reiterate, the quantity break of your pricing matrix will calculate based on the entire quantity of the line item group, regardless of how many different products, product types, and sizes exist within the group.
Simply select the desired matrix and delineator column from that imprint's selection box. After you've made your selections, click "Done" in the imprint modal, then click "Refresh Pricing" to apply your pricing.
Note: Printavo will highlight your line items and the "Refresh Pricing" button if pricing does need to be refreshed. You can also edit the pricing manually after it's been applied.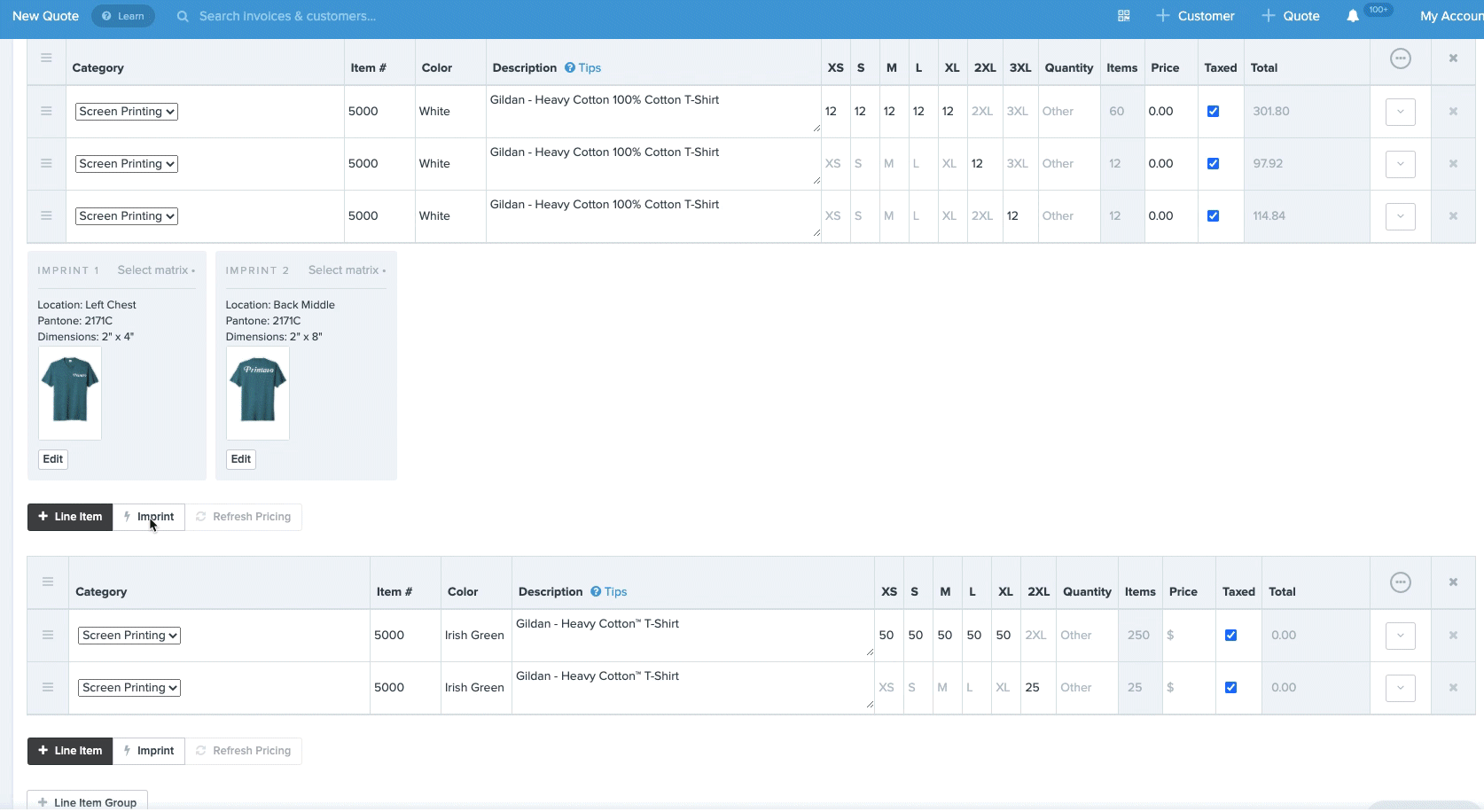 Hovering over the gray information icon will provide you with a specific breakdown of how the pricing was calculated for that particular line item. This information is available to view both on the edit page and on the overview page.
Note: We cover the greater ins and outs of building Printavo's Pricing Matrices in both 6.3 How To: Make a Screen Printing Pricing Matrix and 6.4 Understanding & Importing a Printavo Pricing Matrix.
Adjusting individual markup percentages
To accommodate situations where an individual line item may receive a different markup than the rest of the items in a group (e.g., a high-end sweatshirt vs. a low-end tee), Printavo allows you to edit the markup on an individual line item.
Now, when you apply a pricing matrix to a product via the imprint module, users will be presented with a "Markup %" column. This column will display the markup pulled from the applied matrix.
To edit the markup on a single line item, simply click into the markup box you'd like to change, make your adjustments, and click "Refresh Pricing" to apply your changes.
Manual pricing
To manually add a price to a line item, simply add the desired price per unit under the "Price" column. If you choose to manually enter prices, you'll need to enter a price for each individual line item. You may also manually edit prices that were automatically inserted by pricing matrices.
NEXT: 3.7b Mockup Creator

PREVIOUS: 3.6 Line Items and Line Item Groups